NEWSLETTER -SPRING 2006
Chris Wyatt Testimonial Figure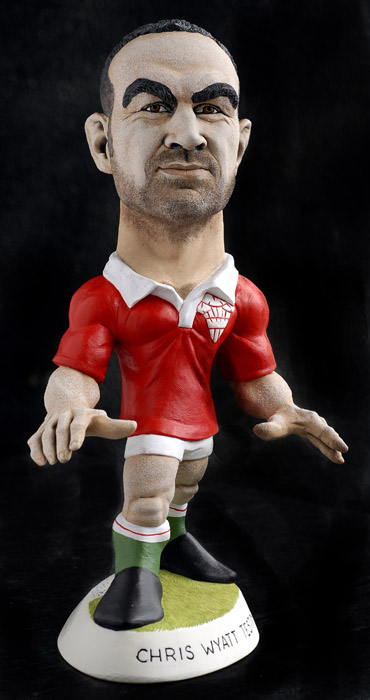 Here is the finished Grogg of

made for Chris' Testimonial Year. They will be available to order online soon so remember to keep checking!

Ryan Jones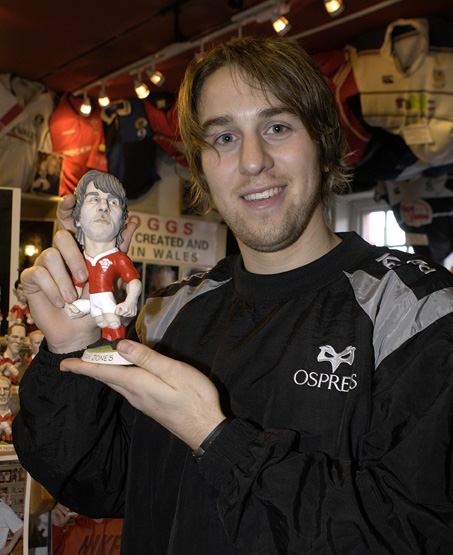 Ryan and his new Limited Edition Grogg
Richard Hill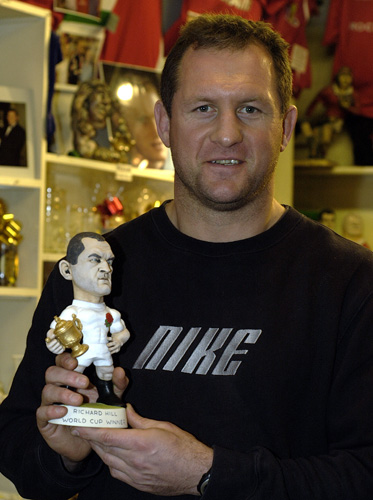 Richard at the Groggshop with his Brand new 9" Limited Edition.
Thanks to Richard for his shirt! Richard, Richard and ....John!
Richard Hill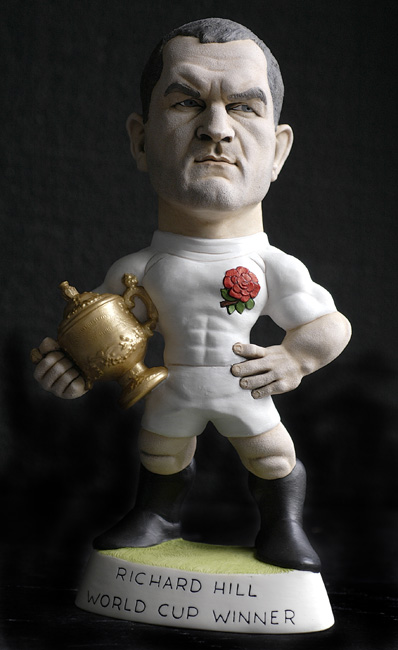 This Limited Edition Grogg of Richard Hill will be available to order online late February.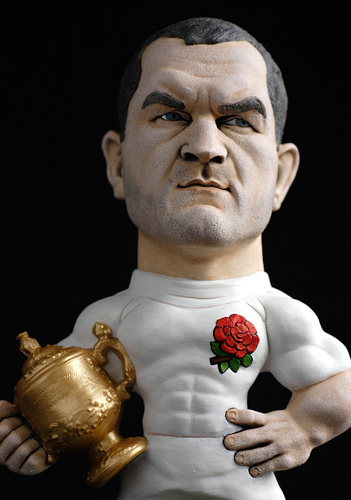 Robert Sidoli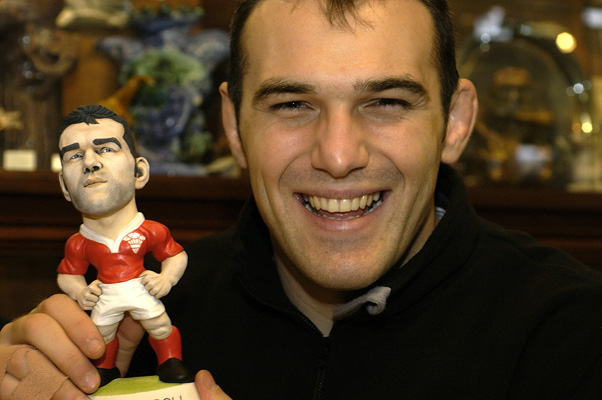 'El Sid' delighted with his new 9" Limited Edition.
Jonathan Davies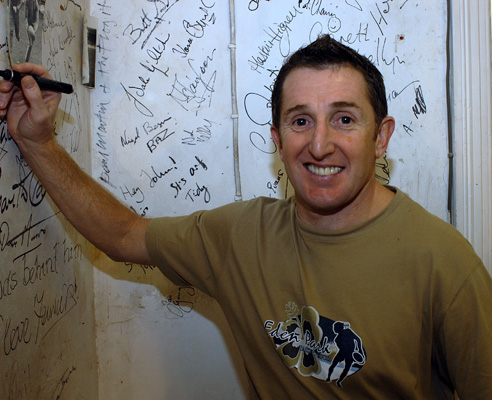 Jonathan signs in AGAIN!
Jonathan finished his signature off by adding the S to Davies which he signed orginally 18 years ago.
Scott Johnson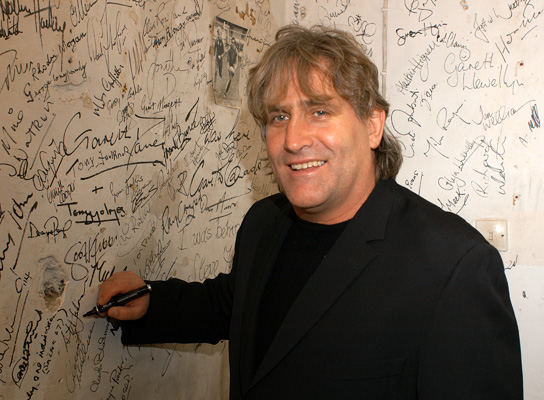 Wales' Super skills coach Scott Johnson signs in at the Wall Of Fame on a recent visit.
*Secret Project Revealed!*
Andrew Hore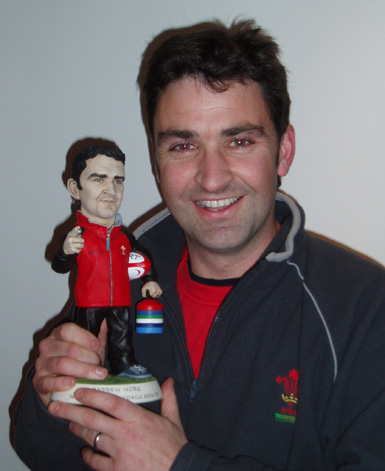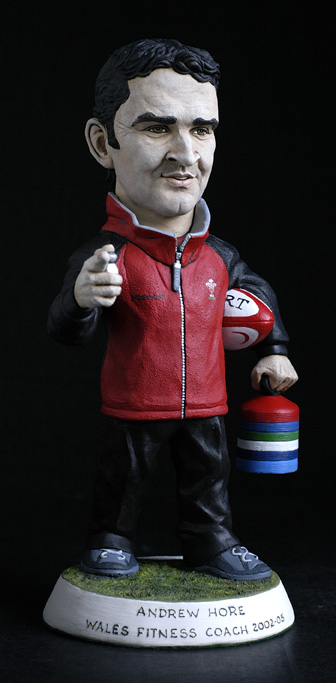 One of Richard's secret projects was finally unveiled on the eve of the Wales V Australia game, when the Grand Slam Wales team finally said Goodbye in style to fitness coach Andrew Hore by presenting him with his own unique Grogg. As clued up collectors know this has been under wraps for months and we were relieved to hear that Andrew was over the moon to join the Grogg family along with his beloved Welsh team! Thanks for the memories and good luck in the future to Andrew.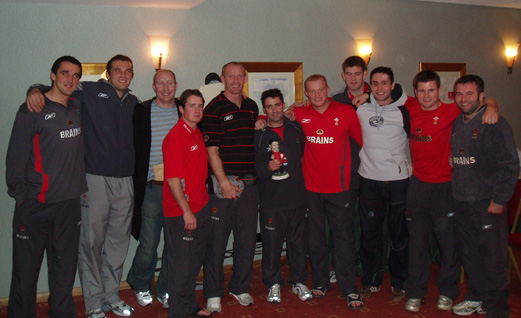 With thanks to the WRU and Caroline Morgan for the pictures.
Michael Owen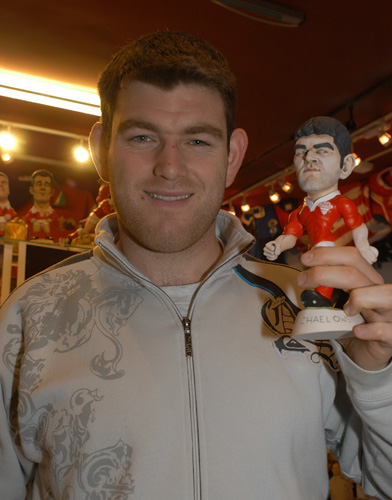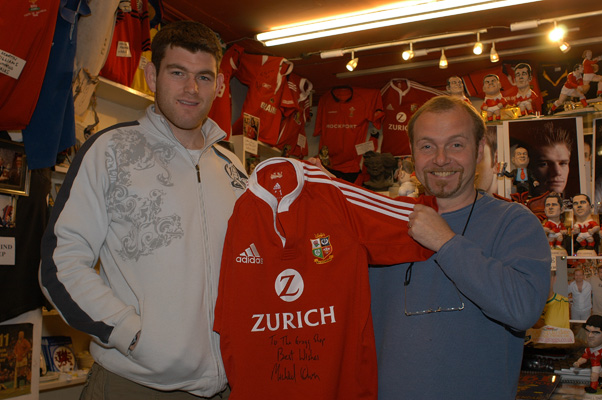 Ryan Jones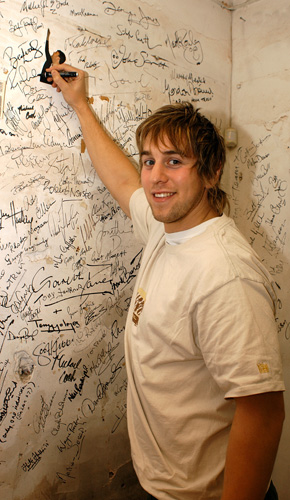 Ryan signs in at the Wall of Fame on his visit for his photo call. Watch out for his 9" Limited Edition figure coming soon.
Check Work In Progress soon for photo's.
We wish Ryan all the luck with his recovery.
Richard Hill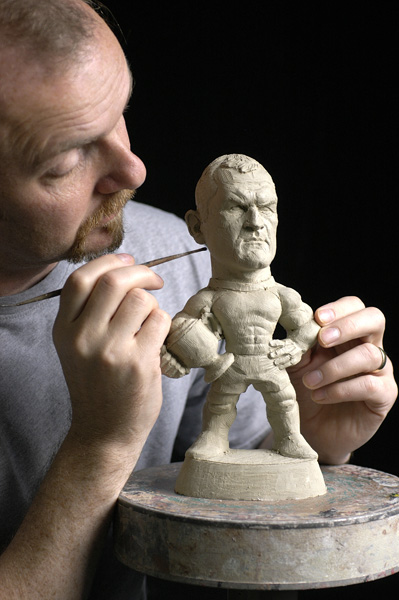 A forthcoming new addition to our Limited Edition figures is Lions legend and England World Cup hero Richard Hill. Richard is currently celebrating his testimonial and has asked us to make a Grogg of him, the first of which will be available in the New Year.
Watch this space for progress of this very desirable addition to our 'Stars of World Rugby' collection.
Clive Rowlands
Wales V New Zealand
Former Player Presentation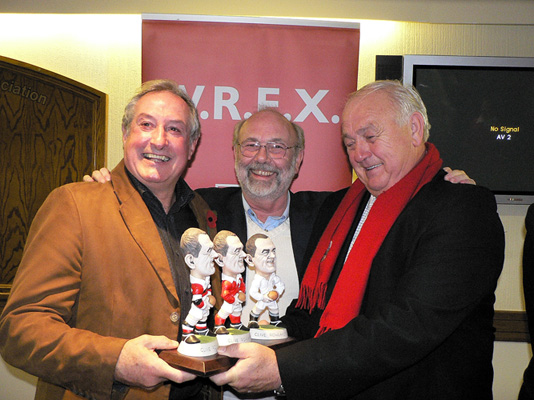 Gareth and John presenting Clive with his three Groggs.
Get yours now!
Pontypool Front Row
& Murray Mexted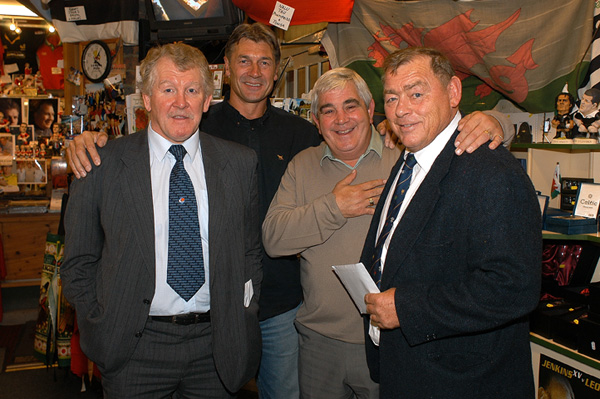 Graham, Murray, Bobby and Charlie visited the shop yesterday for press photo's for their Hall Of Fame dinner on Thursday night and to sign the figures to be auctioned on the night.
Welsh Rugby Former International Players Association Dinner.
Unique Pontypool Front Row,
To be auctioned at The Marriot Cardiff, November 3rd.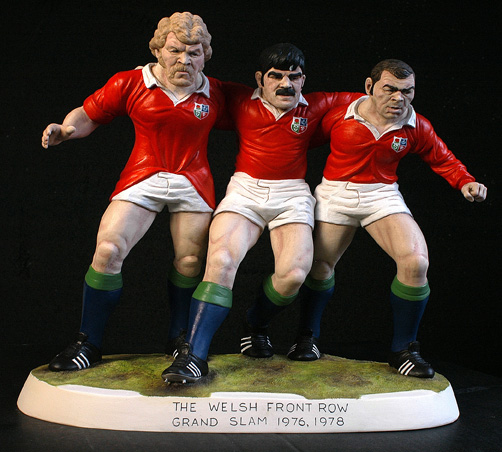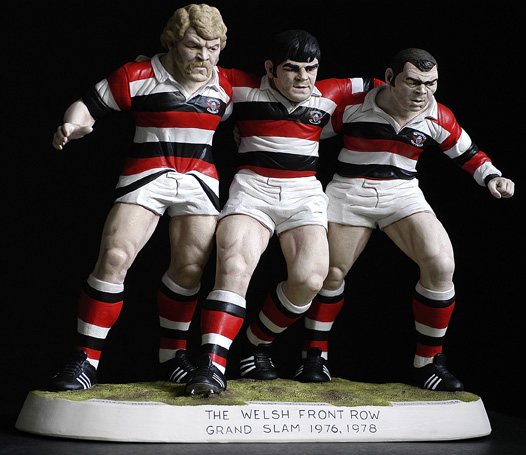 NEW 9" STEPHEN JONES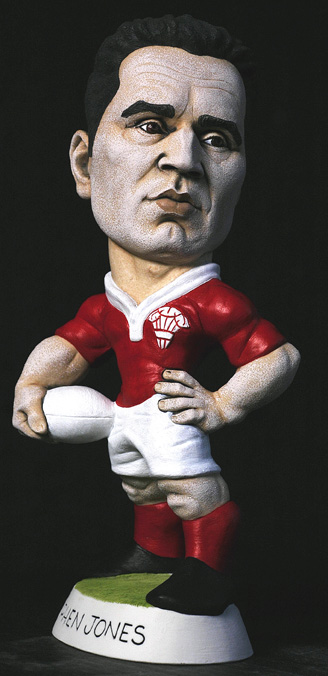 Order yours now on New Products!
Gavin Henson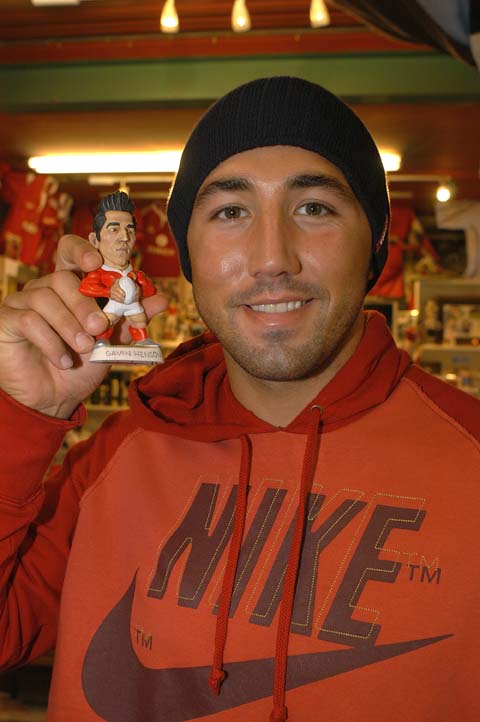 Gavin at the shop this weekend with his Minature figure, we wish Gavin a quick recovery and to get back on the field where he belongs.
The World Of Groggs has created for the Cardiff Institute for the Blind a unique figure of the greatest rugby player of all time. Showing Gareth Edwards just after scoring his amazing 75 yard try against Scotland in 1972 which Gareth declared as his greatest moment. This is the only Groggshop figure which will be produced with the famous red mud spattered finish - an iconic image in sporting history.
The inscription on the base is the famous quotation from Spike Milligan on witnessing this never to be forgotten and spectacular solo try.
'"They should build a b*****y cathedral on the spot!"
Gareth's Greatest Moment, Wales V Scotland 1972'
Also the figure will be signed by Gareth Edwards himself.
The figure will be auctioned in aid of the CIB at the Marriot Hotel on October the 28th. Pre-Auction bids are welcome - for more details contact Richard Evans on 02920 485 414.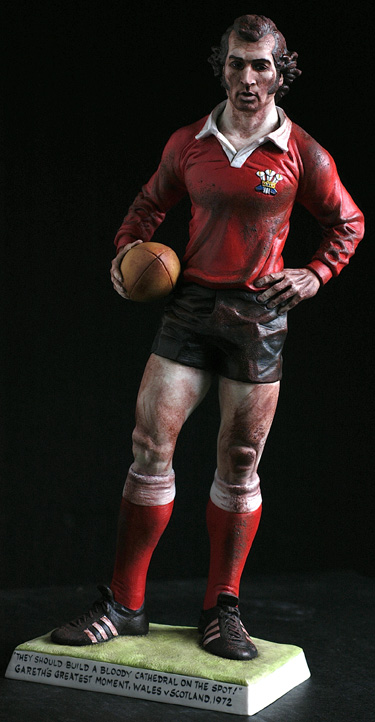 Martyn Williams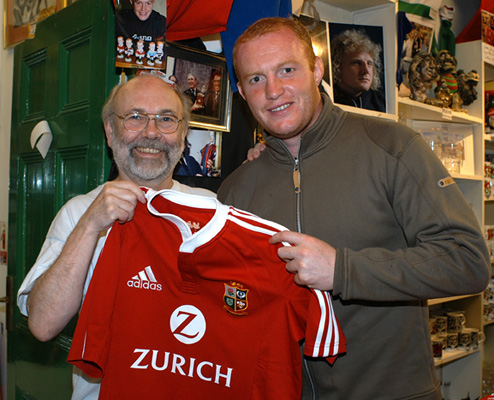 Martyn presenting John with his British Lions Final Test Shirt at the shop last week.
Welsh Rugby Former International Players Association and World Of Groggs Special Announcement!
Everything crossed for firing!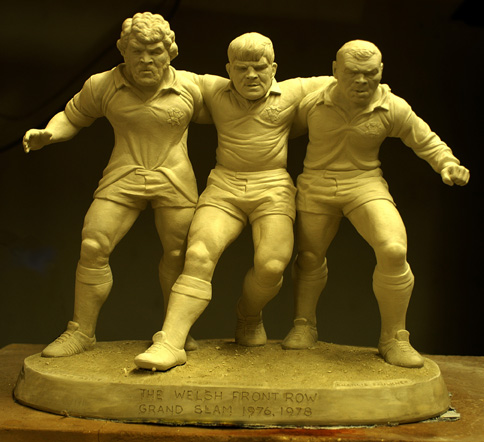 Nine months of work is finally ready for the kiln.
The Welsh Former International Players Association have announced a date for a special dinner on the 3rd November 2005 at the Marriot Hotel in Cardiff.
The theme of the evening will be the induction of the Pontypool Front Row to the Hall of Fame and also to celebrate their 30th Anniversary. As most Welsh rugby fans will know it was 1975 in Paris when this legendary trio first played for Wales as a unit.
The World Of Groggs has, for their 40th Anniversary been working on a Limited Edition Front Row which will be completed in time for this prestigious event. Two completely unique Front Rows have been reserved to be auctioned at the dinner. The first being the only one to be produced in Pontypool strip and the other, again, the only one to be made in Lions strip, representing the only club Front Row to ever have played for the British Lions.
---
SHHH - TOP SECRET!!
Work on the three new 9" Limited Edition figures has been delayed temporaily while Richard works on two secret projects which you will hear about later this year - Watch this space!
Work In Progress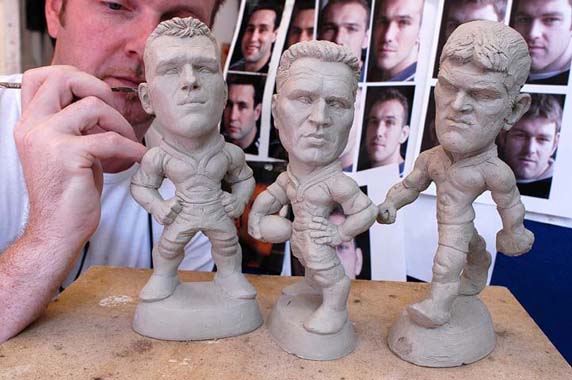 Robert Sidoli, Stephen Jones and Michael Owen are next up in the 9" Grand Slam collection. Check
Work In Progess
regularly for updates. Available to order online soon!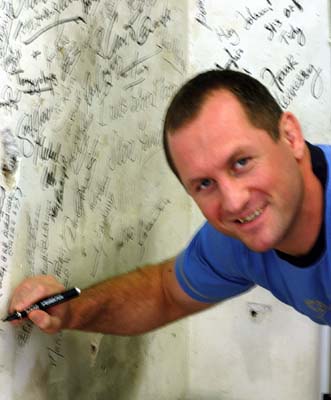 World Cup Hero and Lions Legend, Richard Hill pays us a call and signs the Wall at the Groggshop Sunday 14/08/2005.
Mike Ruddock
3/8/2005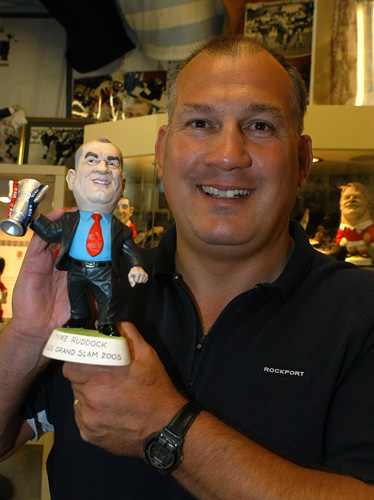 Mike with his brand new Limited Edition Grogg at the shop today.
The Front Row 2005
27/7/2005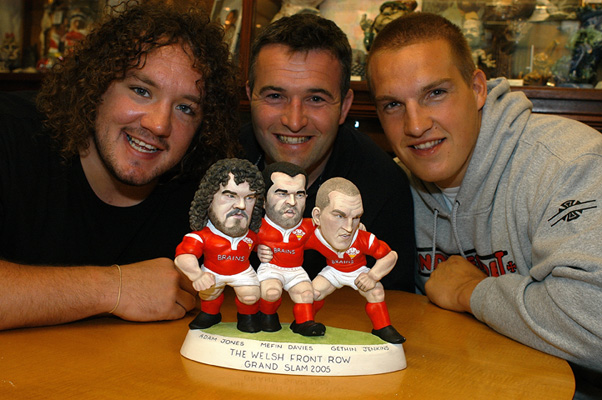 The Grand Slam Front Row with their Brand New Limited Edition Grogg at the shop.
*Please note this particular figure was only for the players themselves and are not available to buy*
Adam Jones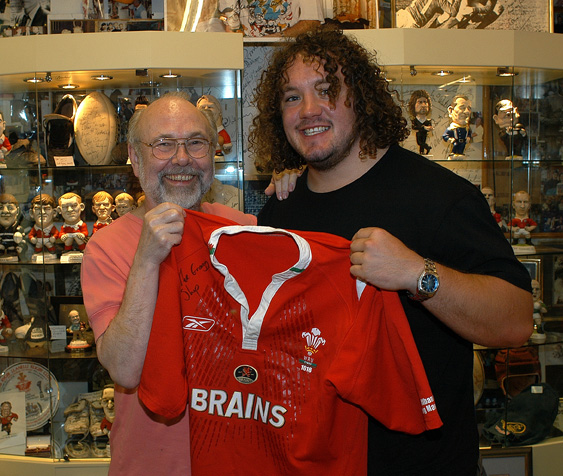 Adam presented us with his Scotland V Wales jersey, our first Grand Slam shirt to add to the collection!
Gareth Cooper
27/7/2005
Gareth was presented with his Brand New 9" Limited Edition today at the Groggshop.
Get yours NOW!
Future Groggs
Grogg Collectors will be pleased to hear that the 9" Ltd Ed Gareth Cooper is now finished and is available to order online now.
Click here.
We are also delighted to see Stephen Jones and Robert Sidoli at the studio last week, who came to have their photo's for their Ltd Ed Groggs. Check Grogg News for progress on these soon.
Also in the pipeline is a special Action Ltd Ed Figure for
Wyatt's Testimonial season starting in September. Welsh fans will never forget it was Chris' great lineout take which set up Scott Gibb's unforgetable try in Wembley 1999 and this is the Limited Edition figure we have planned. As usual this will be a very low run so please let us know as soon as possible if you are interested.
In the midst of Grand Slam Fever, Richard takes a break to continue work on our 40th Anniversary Pontypool Front Row expected later this year.
Special Announcement
*All Sold*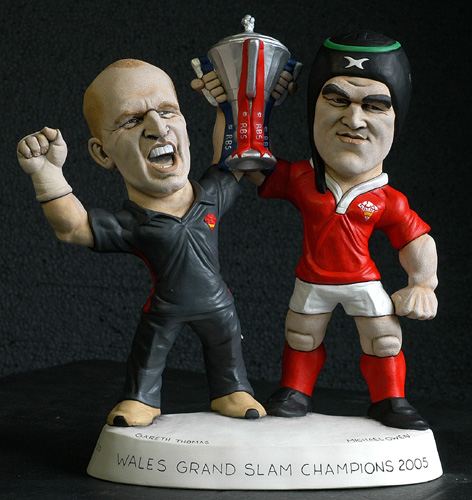 Don't miss out...
Grand Slam Front Row 2005
19/7/05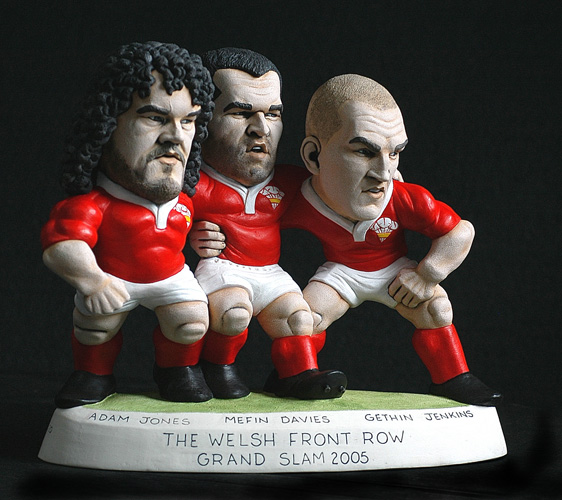 Richard has finished work on the
Front Row
of Adam Jones, Mefin Davies and Gethin Jenkins to carry on with our Grand Slam celebration priced at £400 Limited to 300. If you'd be interested in this figure please let us know ASAP either by emailing me or ringing us on 01443 405001with your contact details and we'll put your name down. This also goes for the
Ltd Ed of Mike Ruddock
and the cup priced at £99.95 Limited to 300 only.
Rob Howley Testimonial Figure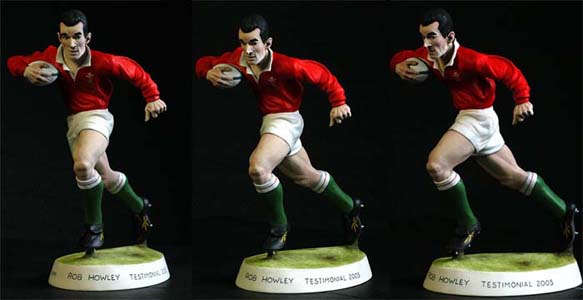 To order ring 01443 405001.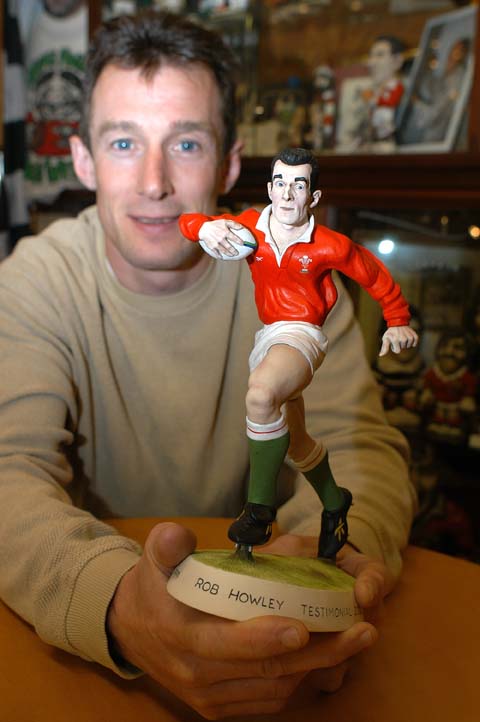 Rob at the Groggshop with his new Testimonial figure.