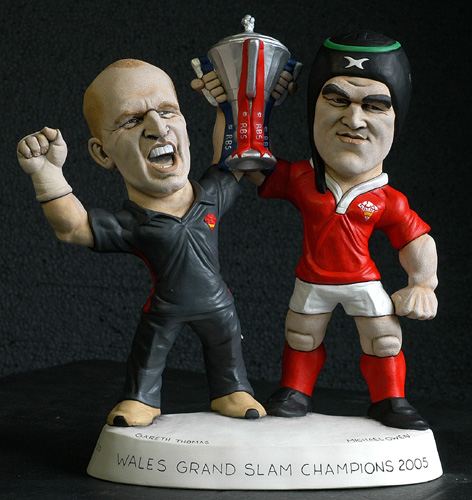 NEWSLETTER -SUMMER 2005
07/03/2005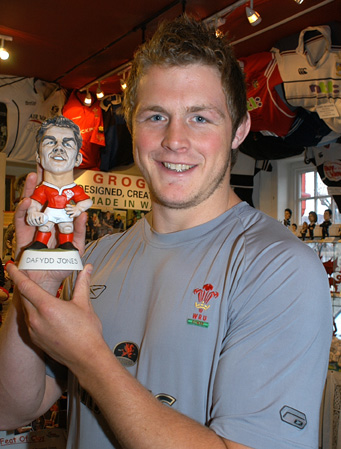 Dafydd Jones visits the shop to recieve his Grogg! We wish Dafydd the best of luck for recovering from his injury.
As Chelsea come to Cardiff and win the Carling Cup Final against Liverpool 3-2, John Terry get's Grogged!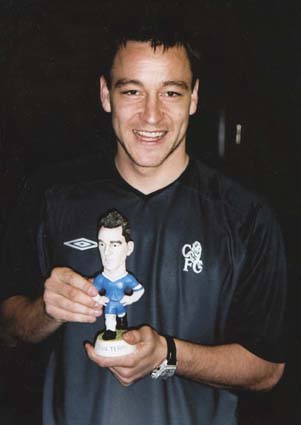 Chelsea and England star John Terry recieves his Grogg
18/02/2005
Gareth Cooper and Dwayne Peel at the shop yesterday.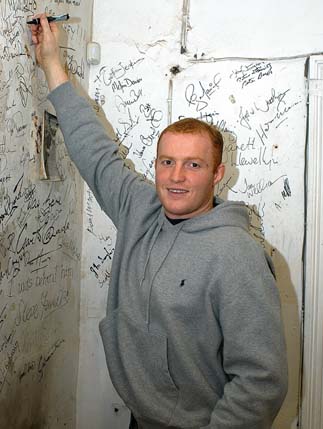 Martyn Williams and Tom Shanklin visited us yesterday taking time out of their busy training schedule to come and have their photo's taken for the up and coming 9" Ltd Ed Collection.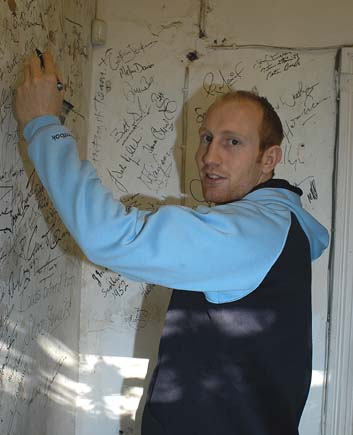 Wales' awesome victory over the World Champions England has put us here at the Groggshop on the spot! Having promised the players we would make the whole team in the Limited Edition 9" size if they beat England, they promptly called our bluff in style - So here we go again! To see players already in the set Click HereFor team development watch this space..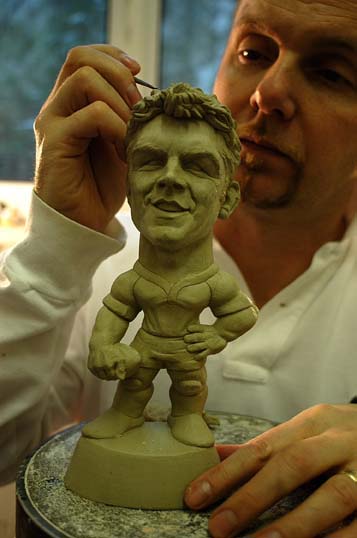 Richard working on the seventh player in the Wales V England 2005 Set, Dafydd Jones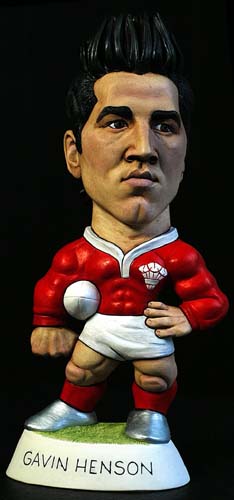 The man of the moment Gavin Henson.All sold.
Gavin Henson 17/01/2005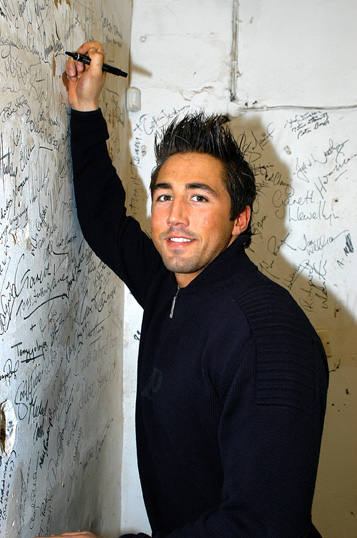 Gavin signs in on Monday ready for his photo shoot with John for his up and coming long awaited Limited Edition Grogg (now all sold). Keep checking Grogg News for figure updates!
Flog It!
Hopefully you all managed to catch Flog It! on BBC 2 on Wednesday which featured the shows famous presenter Paul Martin coming into the shop to interview John. Here's Paul with his finished Grogg which is now on sale in
New Products.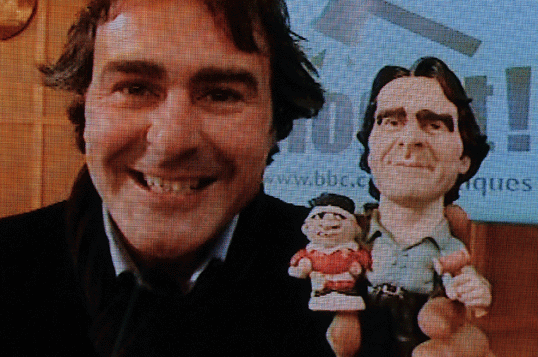 40th Anniversary Commemorative Figure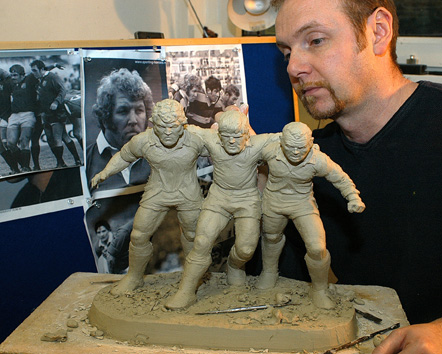 In the year 2005 the World Of Groggs celebrates it's 40th Anniversary. To commemorate this landmark we have chosen to create only 40 figures of a true legend of Welsh Rugby - The Pontypool Front Row. Richard has already began work on the 'Awesome Threesome', two unique versions of which will be reserved to be auctioned on behalf of the Welsh Former Players Association (Pontypool and Lions Strips). Numbers 1, 2 and 3 will be presentedto Graham, Bobby and Charlie respectively, the remaining 37 will be made available to our collectors. Deposits are now being taken ring us on 01443 405001 for more information. Keep checking
Work In Progress
to see these Rugby icons taking shape.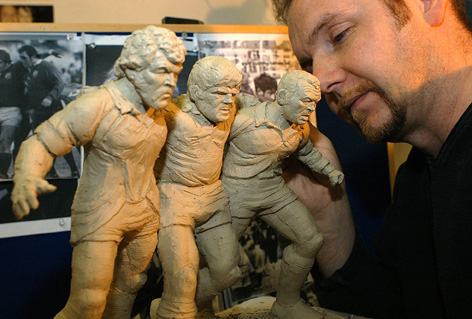 08/01/2005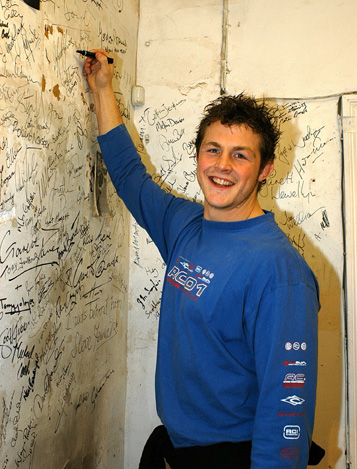 Dafydd Jones signs in, before his photo shoot with John for his up and coming Grogg! Keep checking Work In Progress for updates! Order yours now on New Products.
05/01/2005
Richard will be making a Limited Edition Action figure of Rob to celebrate his Testimonial year. The piece will be Limited to only 59 (Rob's Welsh Caps) making it a highly collectable. Keep checking Work in Progress for updates on the figure.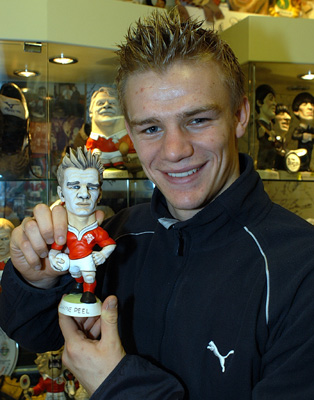 Dwayne at the Groggshop with his brand new 9" Ltd Ed Figure.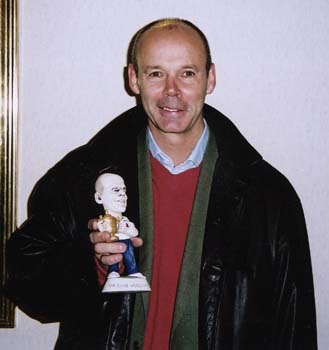 Cheers, Sir Clive and Co!
On the Eve of the Wales V New Zealand match, Sir Clive Woodward was presented with our new Limited Edition of himself at the Vale Hotel by our old friend Les Miles. Sir Clive, who was delighted with his new figure, was in Cardiff checking out the Welsh Rugby talent on show and must have been impressed by the Welsh performance against the All Blacks.Two of stars of the resurgent Welsh team called in later in the week to collect their new Groggs, Adam and Duncan Jones were literally 'made up' with their brace of Groggs and have promised not to cut their hair too soon!
Duncan and Adam compare curls!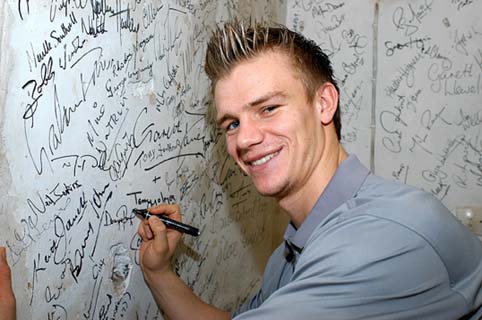 Dwayne Peel signs in, on his visit to have a photo shoot for his upcoming Grogg.
At the Welsh Rugby Ex Players Association Bar after the Wales V New Zealand match on the 20th of November, John fills in at No8 in the greatest Welsh back row combination of all time!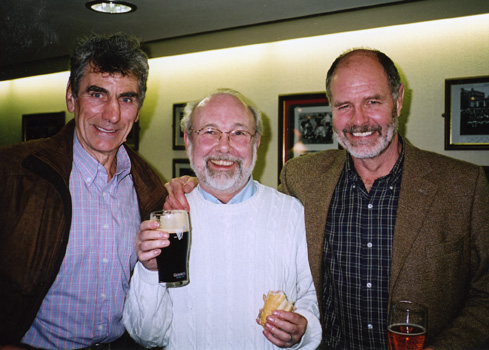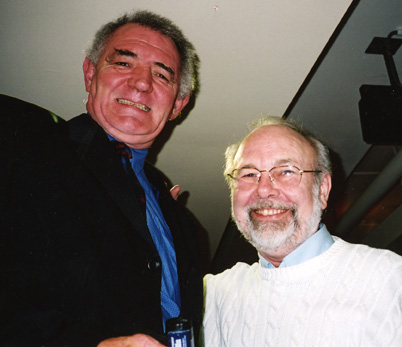 That's more like it, Merv fits the bill a little better!
Vistors from the Land of the Long White Cloud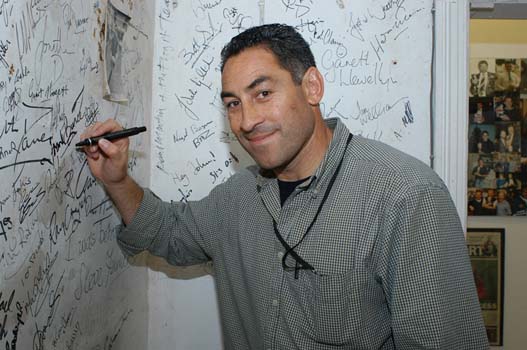 Frank signs in on the Wall Of Fame
Earlier this week Sky TV New Zealand payed us a visit to film and interview John for their pre amble to the much anticitipated Wales V New Zealand game. We were delighted to meet Grant Nisbett the well known commentator who was also on his way to interview former Wales and British Lions Coach Graham Henry now with his foot firmly in the other camp!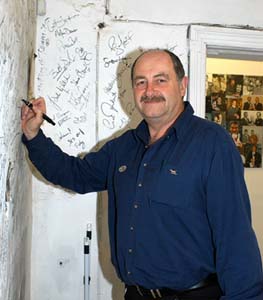 Mrs Henry also dropped in to catch up and chat about old times, admitting it would be strange to be in the Millennium Stadium representing the opposition. Later that same day an All Black legend dropped by with another New Zealand TV film crew TV3, the 55 times capped centre Frank Bunce. It was great to chat with half of the most famous centre partership in All Black history, the other half being Walter Little of course!
On the eve of the match three more New Zealand luminaries payed us a call, John Stergon Manager of the All Blacks from 1982-91, Peter Bush the famous Rugby photographer and last but not least Peter McDermott test Referee shown here awarding a try in the 1977 New Zealand - Lions Test Series.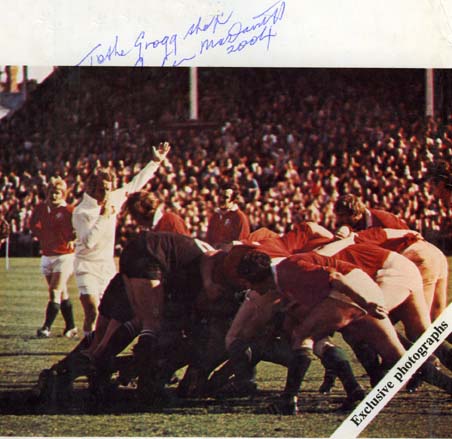 Peter McDermott blows up!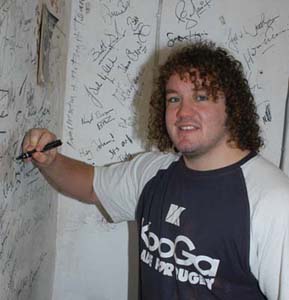 Adam signs in at the Groggshop 'Wall of Fame'.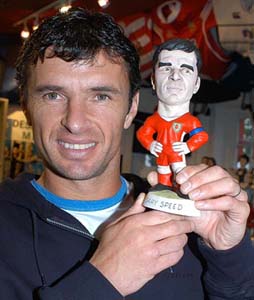 Former Welsh Football Captain Gary Speed visited the Groggshop again on Tuesday to recieve his New Limited Edition figure. Thanks Gary and we wish you all the best in the future.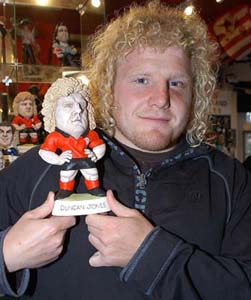 Another famous face returning to the Groggshop was the popular Welsh prop Duncan Jones. Duncan and his girlfriend Jo popped in on Wednesday to recieve his Brand New Limited Edition Figure.
On the 23rd of September at the Holland House Hotel, Cardiff, a Welsh Former International Rugby Player Association dinner was held to invite five of the greatest Outside Halves in Welsh Rugby history to join their Hall of Fame. A unique Grogg figure of Cliff Morgan, Dai Watkins, Barry John, Phil Bennett and Jonathan Davies,each piece signed by the player, was auctioned at the dinner in aid of supporting past players. Entitled "The Outside-half Factory" The piece when auctioned raised £6,500 for this special cause !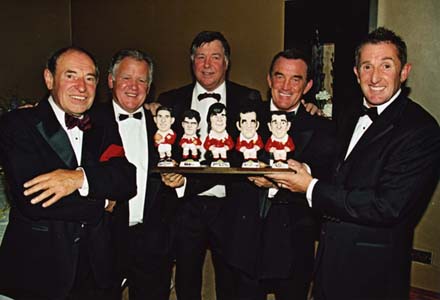 The "Famous Five" with their unique Grogg ensemble
Well thatís all for now, we hope to see you soon, from all at the Groggshop. And donít forget whether you are celebrating a graduation, wedding, birthday, christening or leaving your old job, we can personalise any figure in our range from as little as £5.00 extra, with an inscription of your own choice.