Fresh from his bruising encounter with his Munster chums Simon Easterby popped in to collect his three Testimonial Groggs. A Limited Edition of six of these sets will be produced for Simon during his commemorative season.
A rare opportunity to posess one of the most complicated and detailed figures ever made at the World Of Groggs will present it's self on the 25th of November at the Liberty Stadium, Swansea. As one of the unique pieces marking Shane Williams' testimonial season this has to be the most intricate, and as a result, most sought after of Shanes commemorative year. Every piece of sponsorship which appears on the 2008 Ospreys strip is apparent in minute detail. Obviously the value of such an unusual and unique item will be determind on the night - but if anyone is interested in pre bidding on this stunning piece please let us know and we will take your bid to Shanes function as a reserve and who knows 'maybe' winning bid!
After 6 months of painstaking work the Ray Gravell Bust is now available. Some numbers of each strip will be available before Christmas so please don't delay in ordering. The strip details are as follows: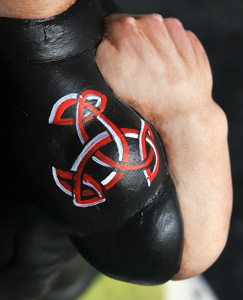 Amazing hand painted detail.
The World Of Groggs has produced a new, highly collectable and extremley low numbered Limited Edition range of the new Ospreys Strip. Complete with the complicated red celtic logo each hand painted piece will only be available in numbers corresponding to the players own number, for instance - Duncan Jones being a number one will be limited to the single figure while there will be 11 figures of Shane Williams. The prices, of course, will reflect the rarity of the low numbers.
A rough guide is as follows :
No 1: Duncan Jones (one figure) £300
No 3: Adam Jones (Three figures) £250 each
No 4: Alun-Wyn Jones (Four figures) £190 each
No 5 : Ian Evans (Five figures) £190 each
No 6: Jonathan Thomas (Six figures) £170 each
No 8: Ryan Jones (Eight figures) £170 each
No 9: Mike Phillips (Nine figures) £170 each
No 10: James Hook (Ten figures) £150 each
No 11: Shane Williams (Eleven figures) £150
No 12: Gavin Henson ( Twelve figures) £150 each
No 15: Lee Byrne (Fifteen figures) £150 each
Each piece will issued with a designated Limited Edition certificate. Ring to order or for more details, not guaranteed for Christmas.
Richard has been busy putting the finishing touches to the Ray Gravell Bust. Work is almost complete and it is hoped it will be available in time for Christmas - see Work In Progress for details.
Two new items we have reserved for Auction are the 'Brave Heart' Action Shane Williams and the 'Yellow Boots' Action Shane. As Welsh fans are aware Shanes 37th try was scored against Scotland after a typical brilliant solo run. Shanes disputed effort left him with a distinctive 'Brave Heart' white face from the touch line white wash. Another unique piece is the 'Yellow Boot' Action figure representing the very try that Shane broke the Welsh try scoring record with. This is number 41, the final piece of the 41 pieces made representing all Shanes tries in his career so far. These two figures will be auctioned at Shanes events this Autumn.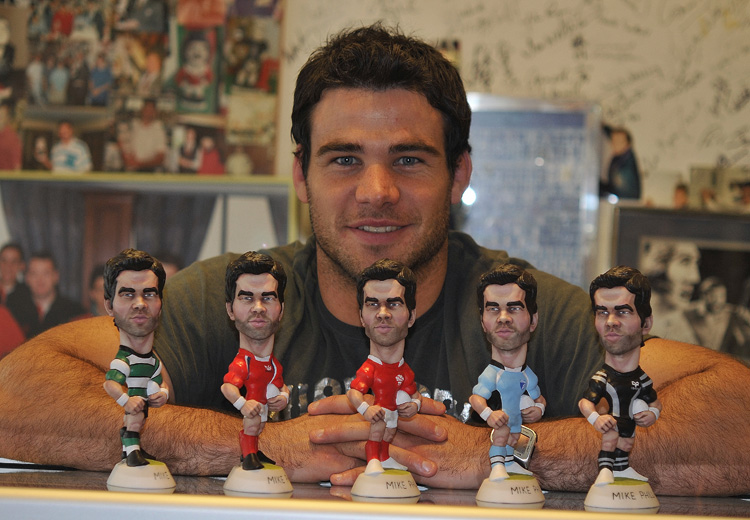 Wales and Osprey star Scrum Half Mike Phillips dropped in to the Groggshop to collect his full set of Limited Edition figures. Strips left to right encompass Mike's career in Rugby to date including 3 of Wales' four regions!
---
Sir Alex Ferguson
10.9.08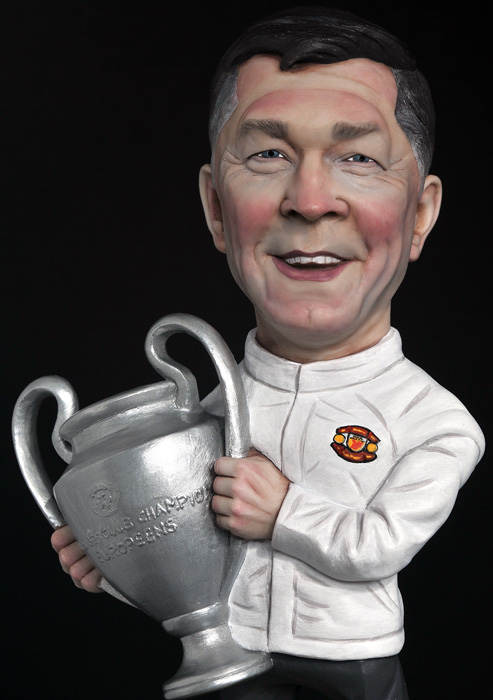 The Limited Edition Sir Alex Ferguson is now complete and ready to order, click on picture above.
---
Ripped Shirt Ray!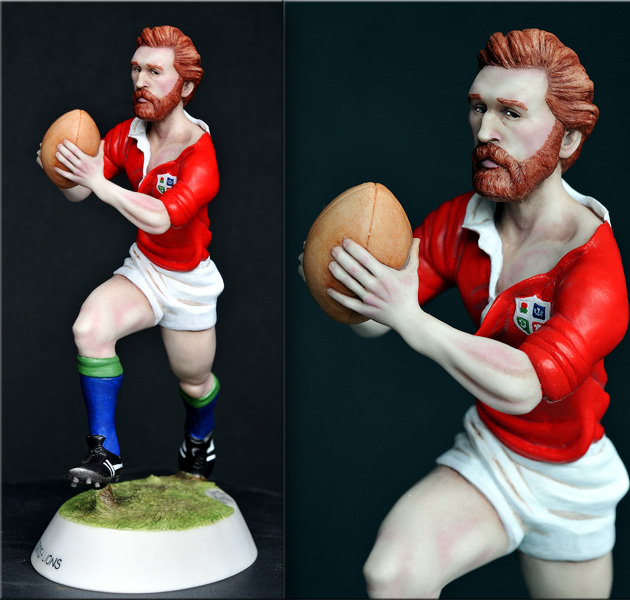 Richard has completed the alterations to the master figure of the Ray Gravell in British Lions strip. As collectors will know only 13 Lions figures with the famous ripped shirt from the Tour of South Africa in 1980 were made. All numbers are sold exempting the number 13 which has been reserved for Ray's family.
---
4.8.08
Nathan Strong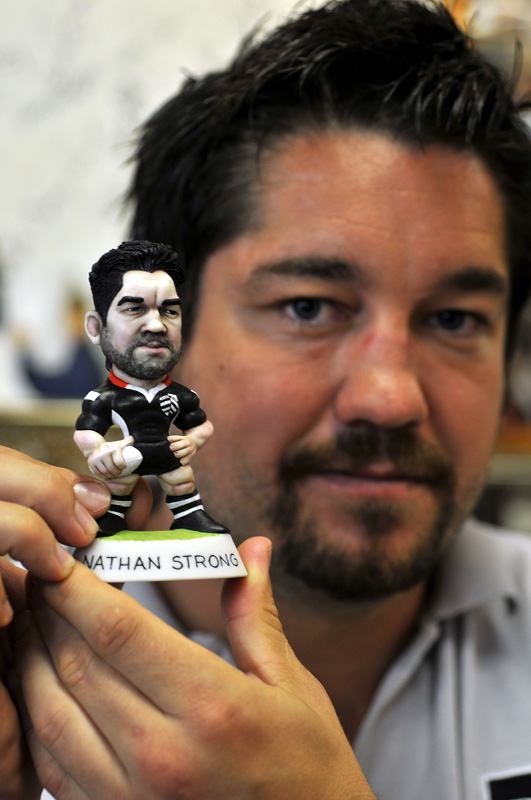 Ponty Captain Strongy receives his new Miniature!
---
31.7.08
News Flash!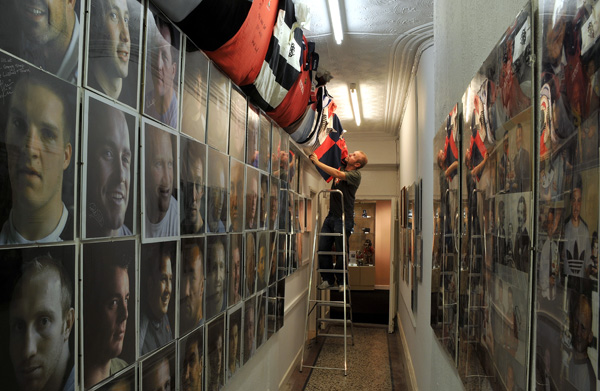 Some more great additions to our ever growing shirt collection are now adorning the corridor to the new museum. New shirts include donations from Donncha O'Callaghan (thanks to Lawson Jones), Sebastien Chabal and Wales' most capped forward Gareth Llewellyn.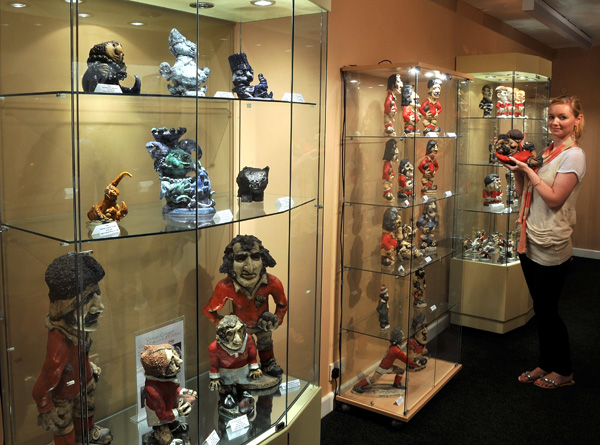 Work in the new museum is on going, hopefully in time for a November opening.
Carly adds another rare vintage Grogg to the new display. Thanks to Dave Williams and Garin Jenkins for their contributions.
---
Simon Easterby
12.6.08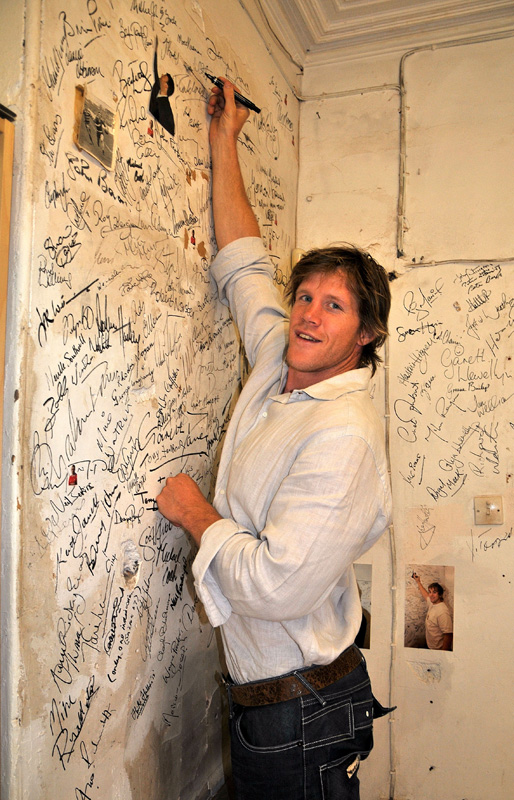 Scarlets, Ireland and British Lions flanker Simon Easterby called in with his family yesterday to sign the wall and have his photos taken for his up and coming Testimonial Grogg.
Lee Byrne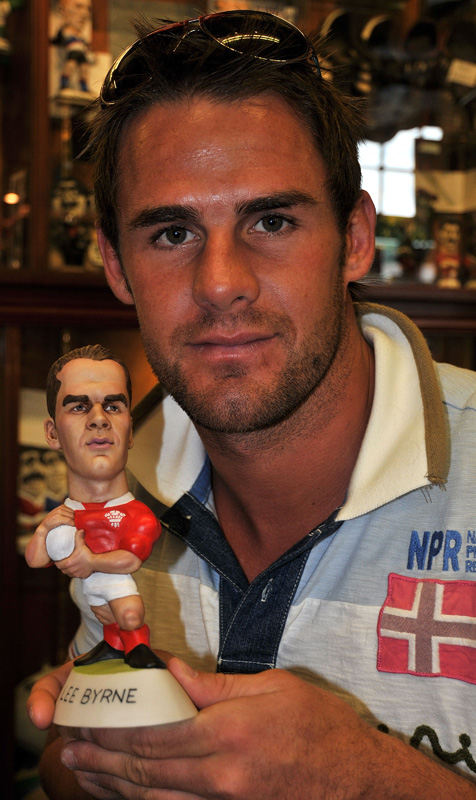 Ospreys and Wales Grand Slam hero Lee Byrne was presented with his new Limited Edition 9" Grogg yesterday and was delighted with the result. Look out for the new Mini Grogg available soon.
---
Mike Phillips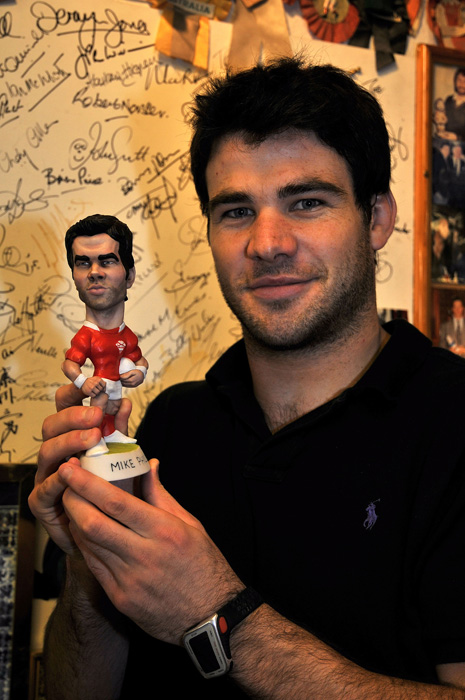 Wales Grand Slam scrum half Mike Phillips was delighted with his new Limited Edition figure presented to him at the shop on Tuesday - Here's to a speedy recovery Mike.
Secret Project unveiled!
World Of Groggs Tribute to
Ray Gravell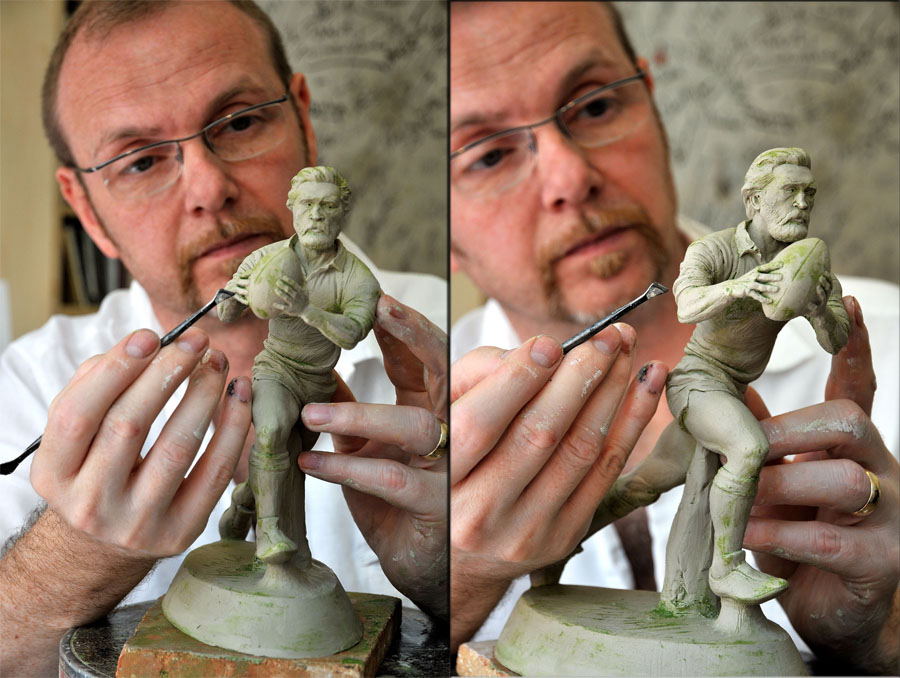 As some of our keener collectors are already aware Richard has almost finished our tribute to one of our favourite rugby characters of all time - Ray Gravell. This Action Limited Edition will be available later this year but orders are now being taken. The breakdown is similar to Phil Bennett's testimonial figure and will be as follows:
Wales - Limited to 100 pieces, priced at £200.

Llanelli - (Inscription, Llanelli 9 Seland Newydd 3) Limited to 13 pieces, priced at £300.

Lions - (Ripped Shirt) Limited to 13 pieces, price to be confirmed. - Numbers SOLD

Barbarian - Limited to 13 pieces, priced £300.
As usual number 1 + 13 of all of these figures have been reserved for Ray's family.
The figure will also include Ray's Wales, Lions and Llanelli appearance details.
---
Alun-Wyn Jones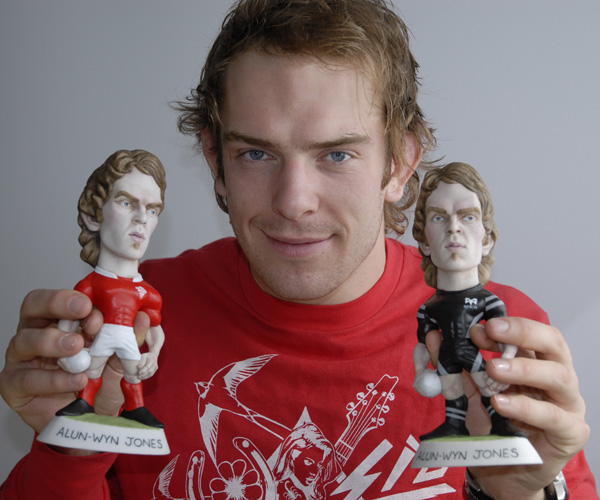 ---
4.4.2008
Ian Evans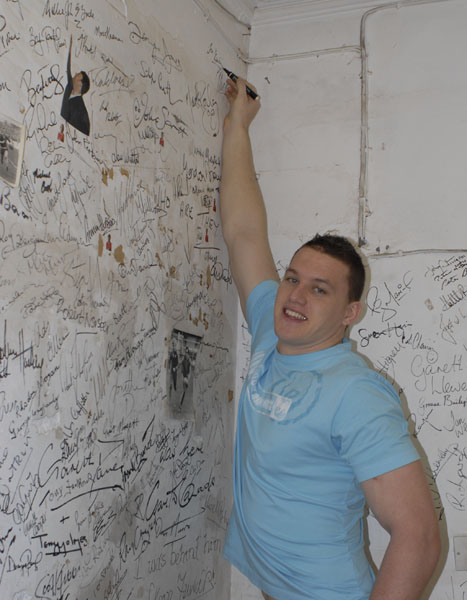 Wales and Ospreys giant lock Ian Evans dropped in to have his photos taken for his forthcoming Grogg. He also broke the World record for the highest signature on the Wall of Fame with a amazing 8'9" just beating his second row partner Alun-Wyn Jones!
---
2.4.2008
Action Shane Williams - Grand Slam 2008 - 41 Tries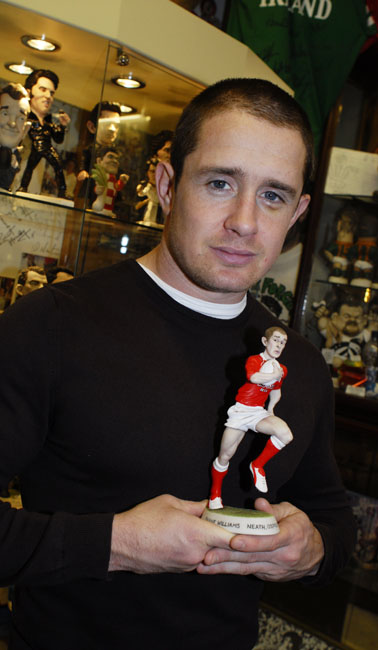 Grand Slam hero and Wales super winger Shane Williams dropped in to the shop this week to collect his number 11 of the new 'shaved head' Limited Editions.
As Grogg Collectors will be aware by now we have re-modeled his Action Testimonial figure to commemorate Shane's amazing achievements in this years Grand Slam campaign. Limited to only 41, the number of tries Shane broke the Welsh try scoring record with, numbers 1,11 and 35-41 being reserved for Shane. The remainder are available to order now here
Click!
---
GRAND SLAM WINNERS 2008
Still available - but going fast!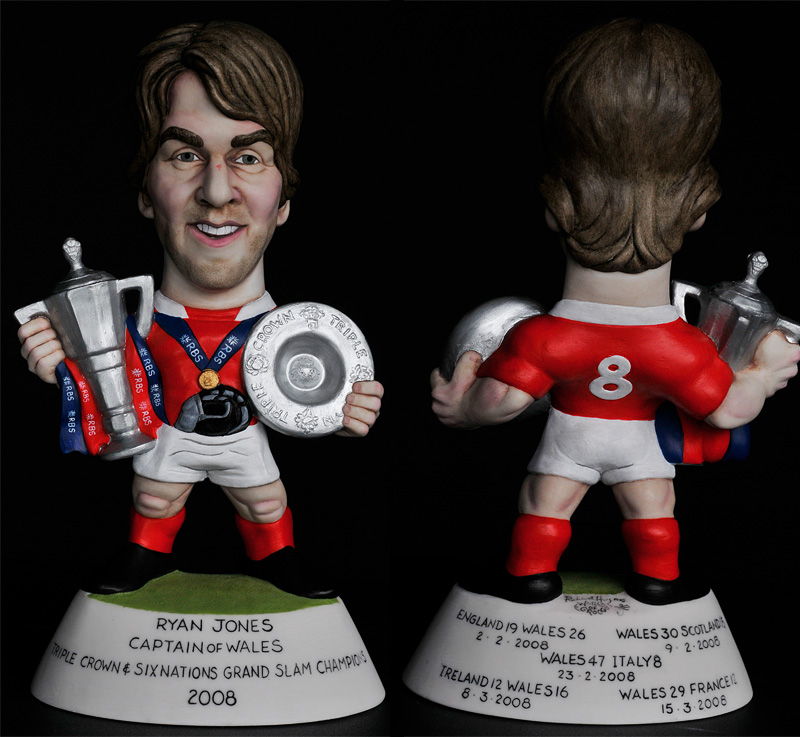 We have made a figure of Ryan Jones holding both the Triple Crown plate and the RBS Six Nations Trophy, the figure will also have all of the results on the back of the base, it is £200 and Limited Edition to 300 pieces. If you want to order one please ring us on 01443 405001 ASAP or order online at
http://www.groggs.co.uk/products/547
and the order will have to be PAID IN FULL.
11.3.2008
Phil Bennett 60th Birthday Grogg Launch
"Those were the days!"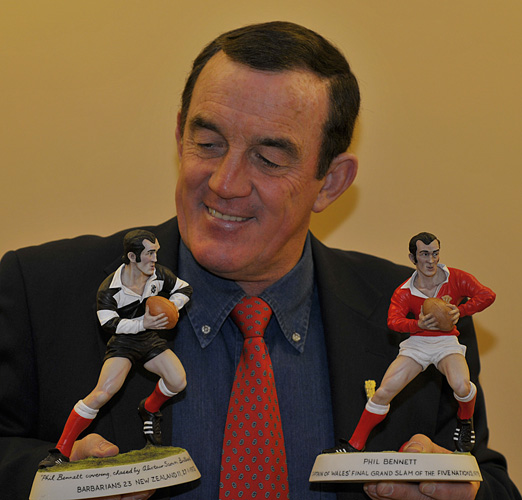 Phil reflects on his glory years during his visit to the Groggshop to collect his significantly numbered Limited Editions,
click here to order
.
---
7.3.2008
Unique Auction
'Headbands of History'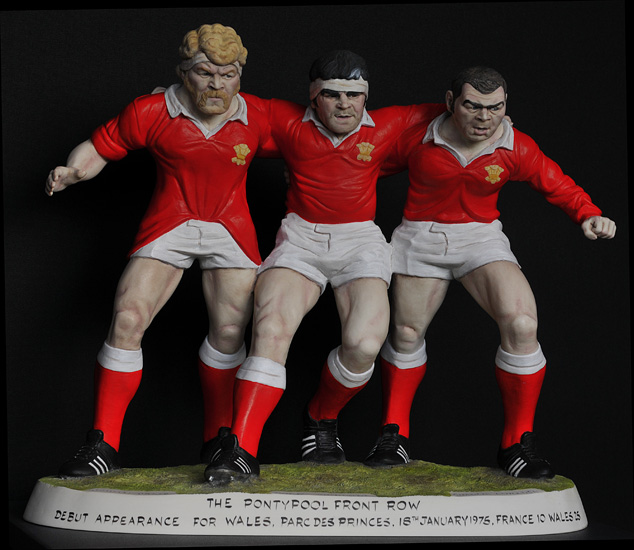 The finished piece - 'Final Front Row!'
In Paris on the 18th of January 1975 the legendary Pontypool Front Row made their inaugural appearance as a unit for their country in a new look Welsh side. Wales famously went on to beat France 10-25 in an amazing game which turned the tide of Welsh rugby. Another first that day was the wearing of headbands for both Bobby Windsor and Graham Price! It was also to be the last but it marked a unique occasion in Welsh rugby history. The World Of Groggs has chosen their own final Front Row in the Limited Edition of 40, originally saved for their new museum, to immortalise this event. This figure is totally unique featuring as it does those famous 'headbands' and an inscription which commemorates that special day. It will be auctioned at a Wales V France themed dinner in aid of the Welsh Former Rugby Players Association on Thursday 13th March at the Millennium Stadium.
---
5.3.2008
Lee Byrne and Mike Phillips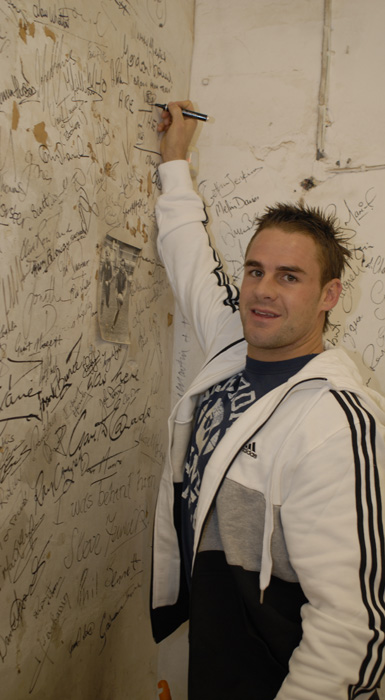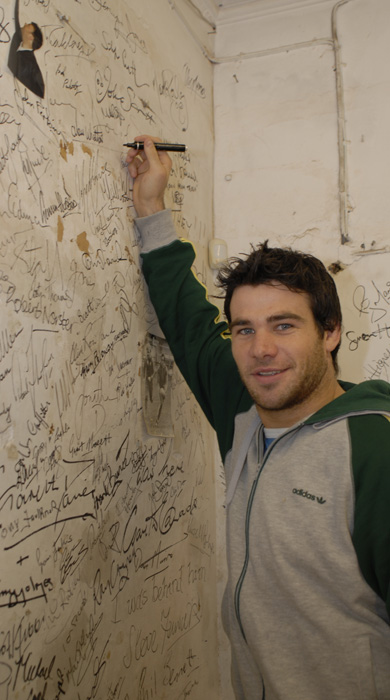 Two of Wales' Triple Crown heores dropped in to have their photo's taken and signed in at the Wall of Fame. Good luck to Mike, Lee and the rest of the Welsh squad - everything crossed for Saturday!
---
29.2.2008
Shane Williams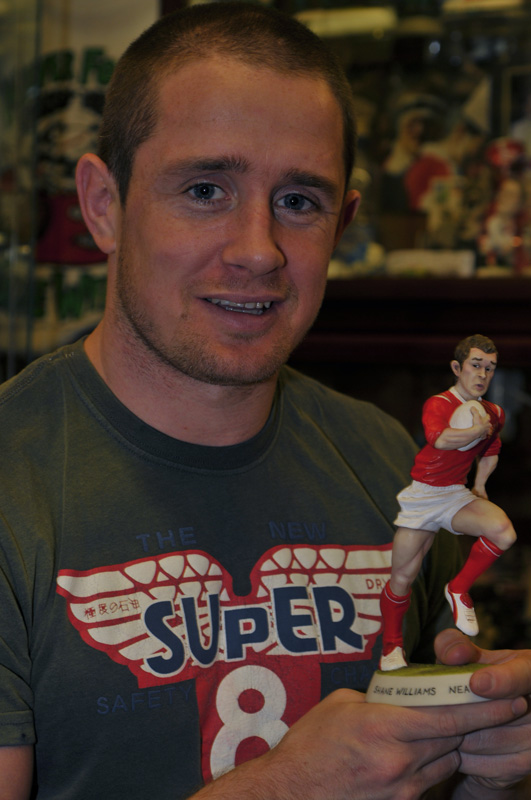 After a great result on the weekend, Shane stopped off at the shop yesterday to receive his new Limited Editon Action Testimonial figure.
---
22.2.2008
Work on our new museum, the "Grand Slam Gallery" is moving on a pace and we are all looking forward to the opening party sometime this summer. Make sure you don't miss out!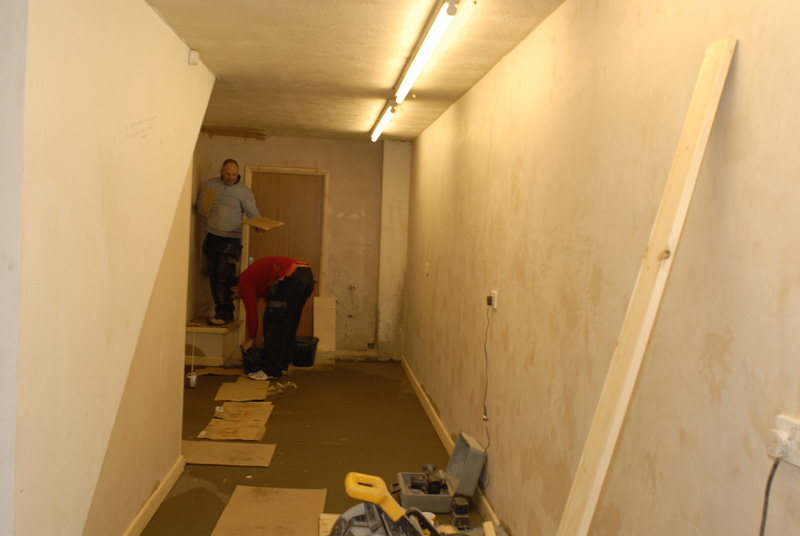 Nearly there, 5 years waiting is almost over!
---
Ready to order, Action Shane Williams.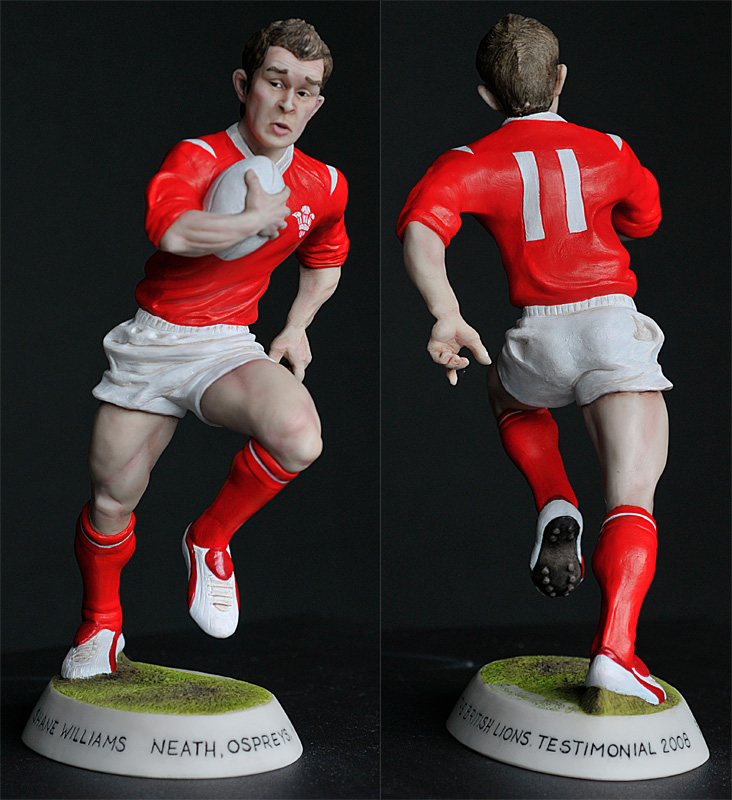 In 2008 Wales' wonder winger Shane Williams is celebrating his Testimonial. The World of Groggs, in time honoured fashion, has created a commemorative Action Limited Edition of Shane especially for his celebratory season.
The figure will be available in four different strips in very low numbers, so far the figure will break down as:
Ospreys - Limited Edition of 11, £300

Neath - Limited Edition of 11, £300

Lions - Limited Edition of 11, £300

Wales (Brains 2005 Grand Slam strip) Limited Edition of 11, £300 - SOLD OUT

and this figure - Wales Limited Edition of 100, £200
Number's 1 and 11 of all of these strips have been reserved for Shane. The remainding numbers are now available to order. Please let us know ASAP on low numbered strips.
---
8.2.2008
Back In One Piece!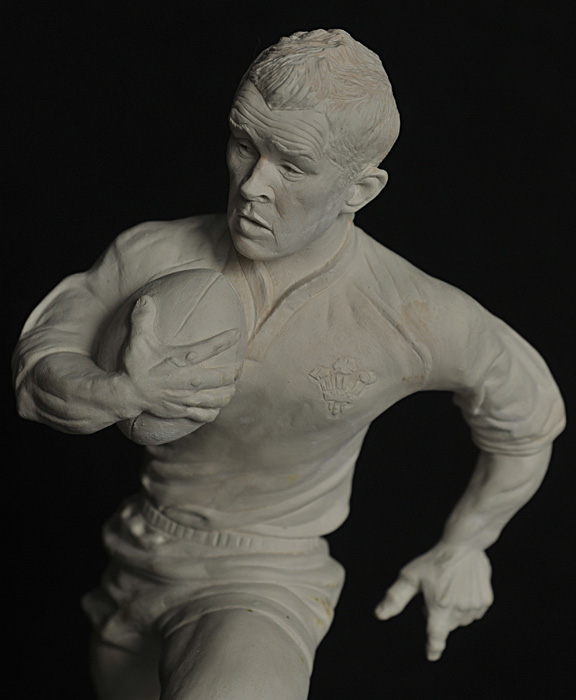 A great sigh of relief was heard all around the Groggshop when Richard finally put Shane's bodily parts back together again to find he would balance on just one leg!
This is only the second time a figure balancing in such a dramatic way has been attempted. The other figure was, of course, Neil Jenkins 'Just Kick It' Testimonial piece - so Shane is in great company.
For details of the Strips and numbers available please
click here
.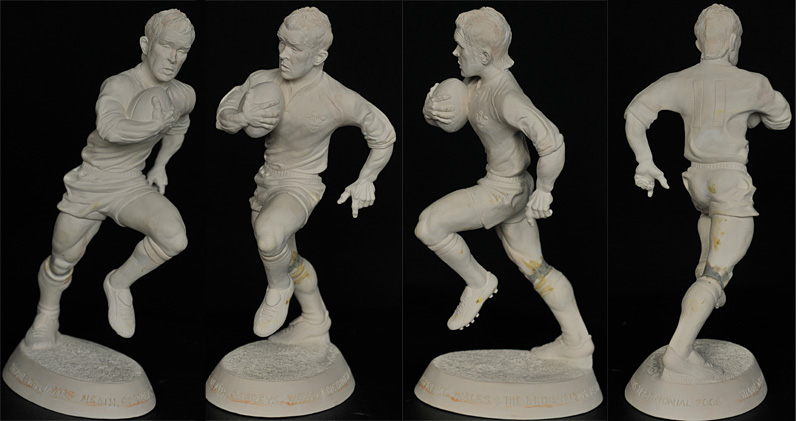 ---
25.1.2008
Alun-Wyn Jones Work In Progress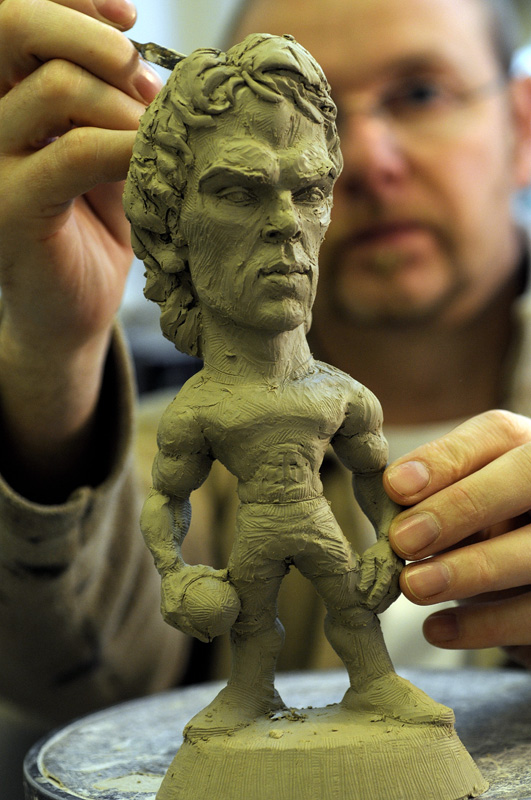 Another one to add to the line up, Alun-Wyn takes shape.
---
18.1.08
Barbarian Phil Bennett - Numbers Reached!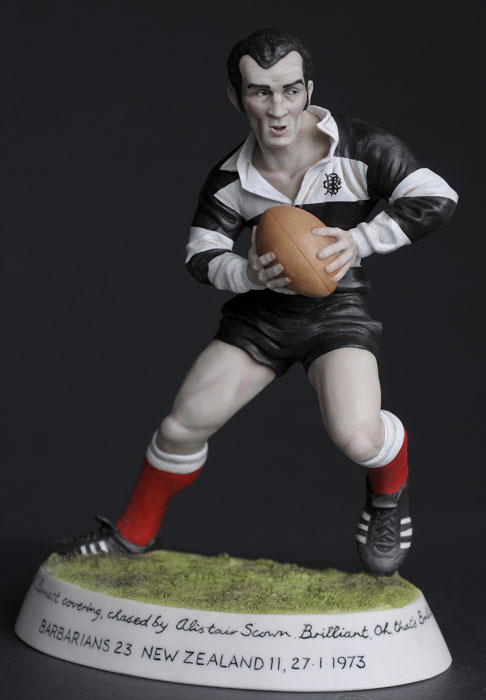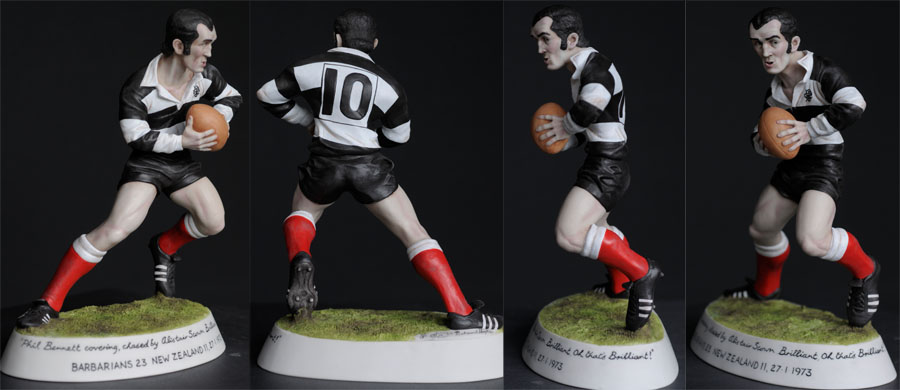 11.1.08
Phew!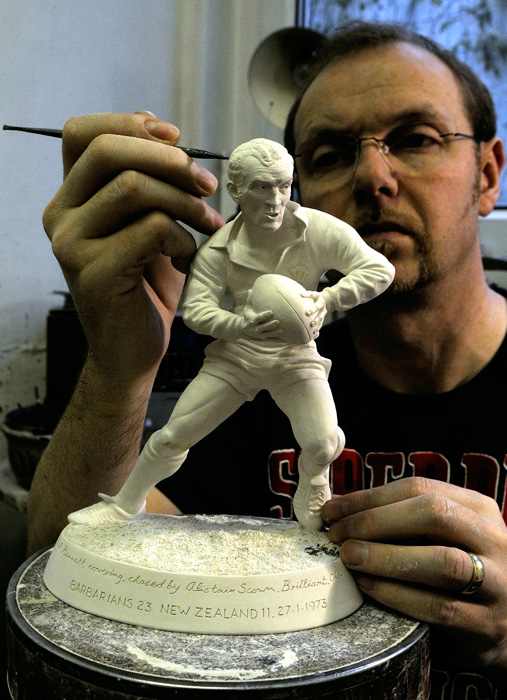 Phil's Testimonial Action figure was fired successfully last night. The mould is now being made so watch this space for the finished piece.
---
Exciting Announcement - World XV Mini Collection.
In 2008 the World of Groggs is embarking on many new projects. One such long overdue venture is our much debated World XV Mini Collection. So much conjecture has surrounded the selection of this fabled XV that it has until now discouraged us from starting such a massive undertaking. However, with the help of Facebook and the input of our Collectors Club we are intent this year on completing the Greatest Ever World XV in miniature. To start the ball rolling Richard has already decided to make Sebastien Chabal and Richie McCaw (no-one we assume could argue with those selections!). Then it is up to you! Let us know who else should be included, we will collate the information and make regular updates on the website. New figures will be added throughout the year and you can keep track with developments by watching Richard on Work in Progress. A minimum of 20 votes will be required to promote each player into Groggable position so your input is vital. Get your thinking caps on and start voting NOW!
---
Matthew Rees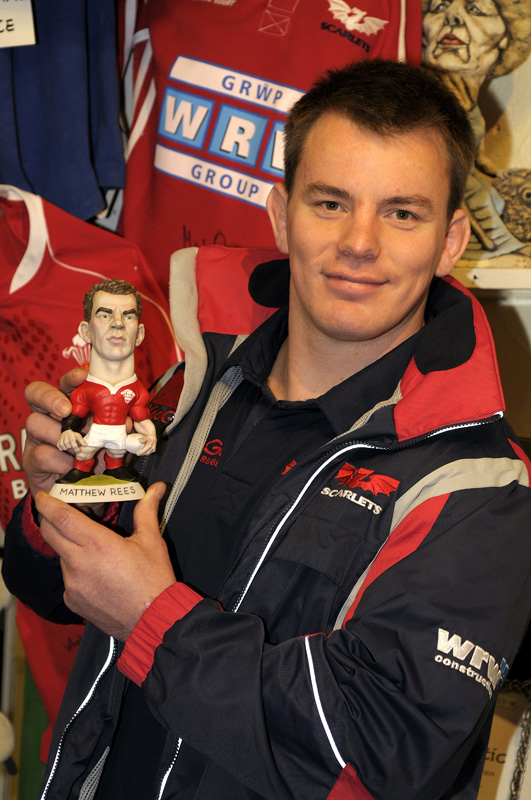 Matthew popped in for his new Limited Edition Grogg this week. Thanks Matthew again for our first Llanelli Scarlets shirt!
Mark Jones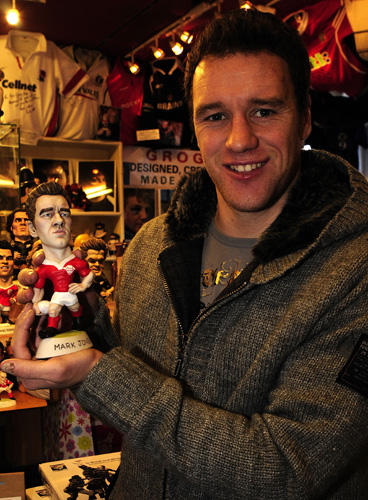 Mark Jones and his wife Helen popped in to pick up his New Limited Edition figure this week, also bringing us a Welsh shirt signed by himself, thanks again Mark!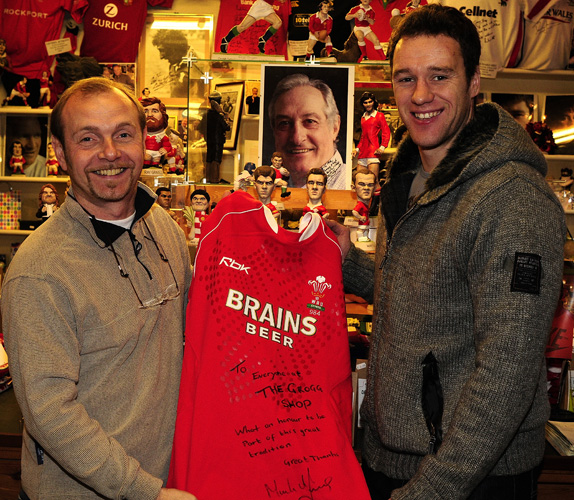 ---
Alyn-Wyn Jones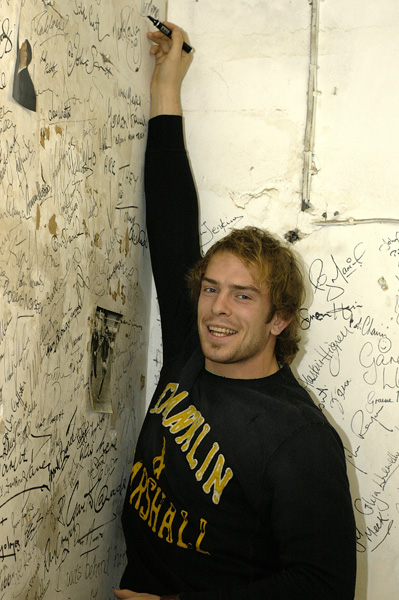 Alyn-Wyn Jones signs in and beats the record for the highest autograph on the Wall Of Fame!
---
World Cup Mascot Shock!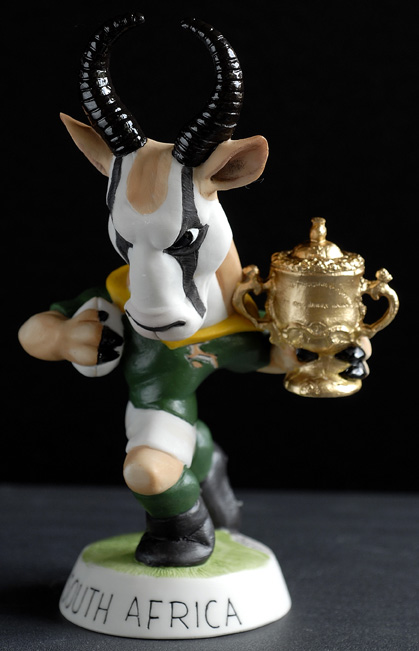 Imagine our surprise on opening the Groggshop the morning after the World Cup Final and finding there had been a bust up in the Mascot display. There were a few chips and bloody noses but the most remarkable thing was the Springbok had managed to wrestle the World Cup from the paws of the English Bulldog! In time honoured fashion it will stay there for at least the next 4 years!
---
World Cup Stars get their Groggs!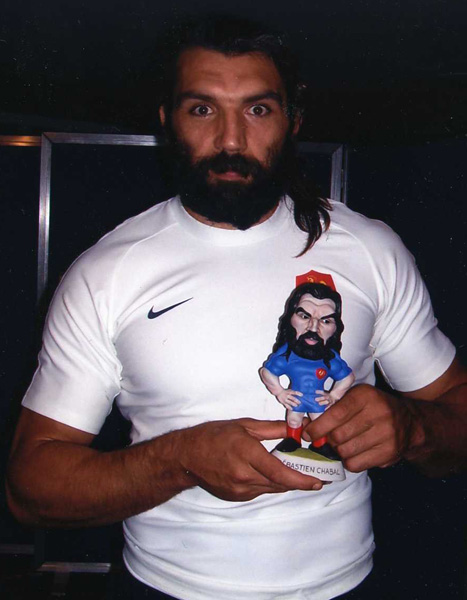 Chabal at the Hilton with his new Limited Edition.
Picture courtesy of Mr and Mrs Jeremy Lewis.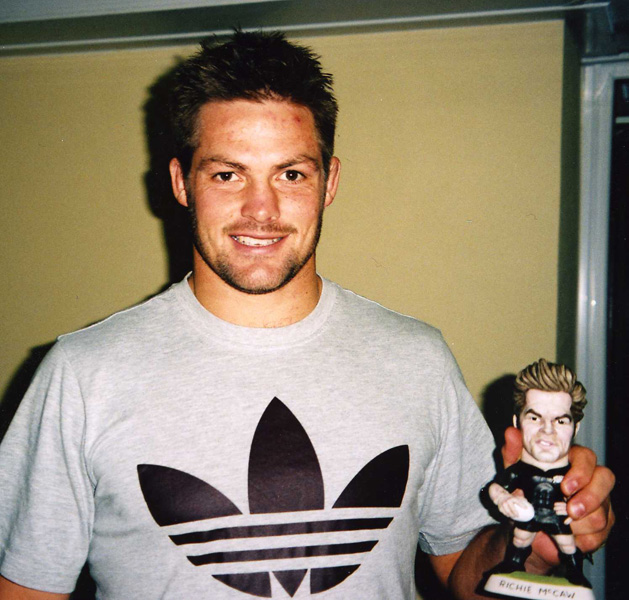 New Zealand Captain Richie McCaw and his Grogg at the Vale prior to the Quater final against France.
Picture courtesy of Les Miles.
---
05/10/2007
Awesome All Black memorabilia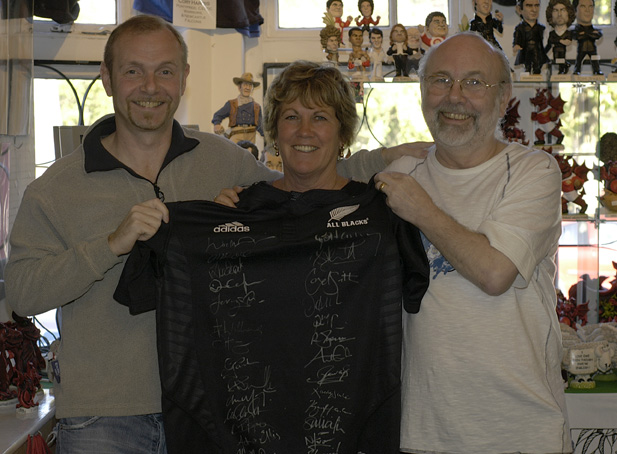 Our favourite New Zealander Raewyn Henry has presented us with a All Black shirt signed by the entire World Cup squad. What a great way to start our new museum, thanks again Raewyn.
All Blacks hit the Groggshop!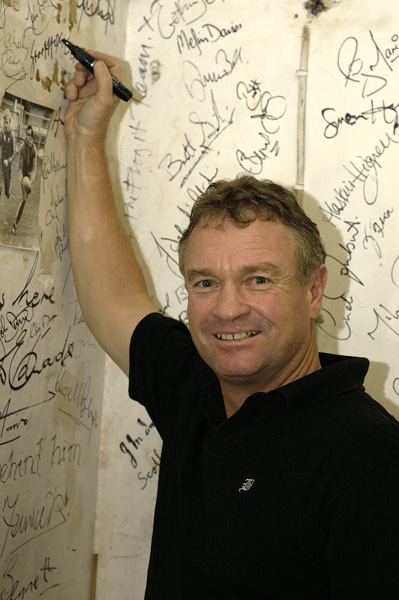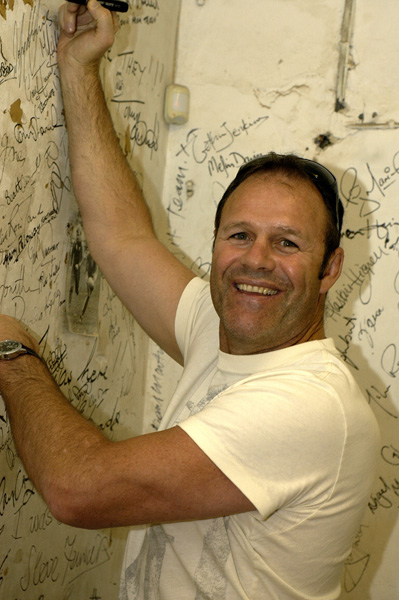 All Black legends Grant Fox and Alan Whetton sign in at the Wall Of Fame.
---
Updates 18/9/2007
The Gift Shop
New online for Christmas is our Gift shop, full of welsh gifty things usually only available here at the shop!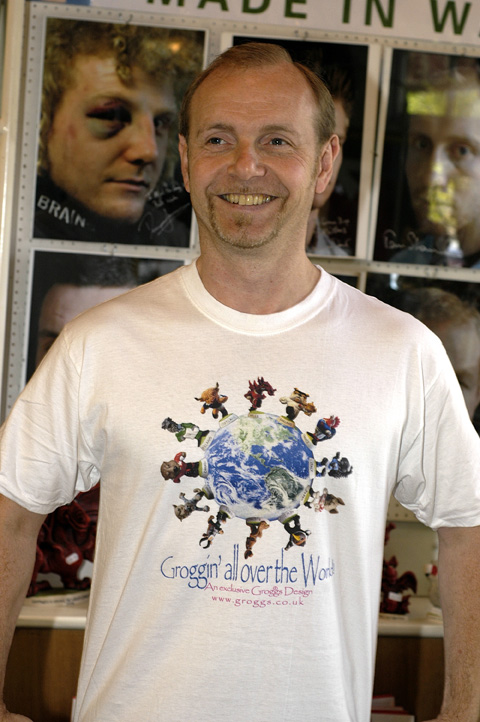 New!... Limited Edition Groggy design T-Shirts, the ultimate Grogg Collectors must have...Order online now!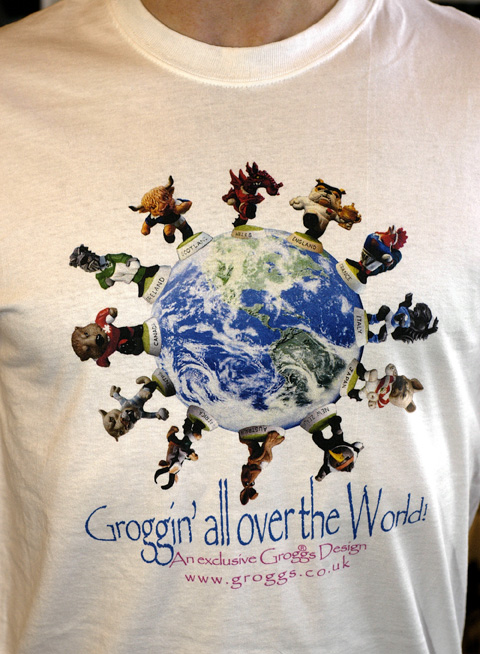 ---
Rhys Williams Testimonial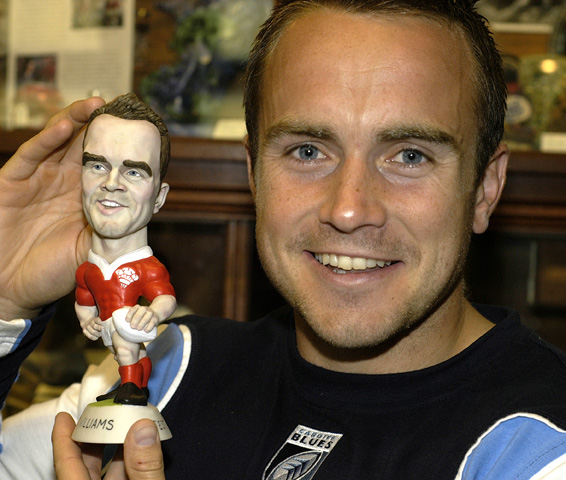 This figure is exclusive for the Rhys Williams Testimonial
---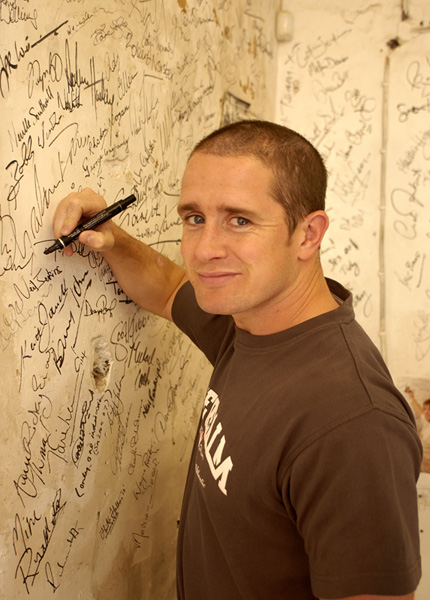 Shane signs in at the Wall of Fame.
---
Good Luck Down Under!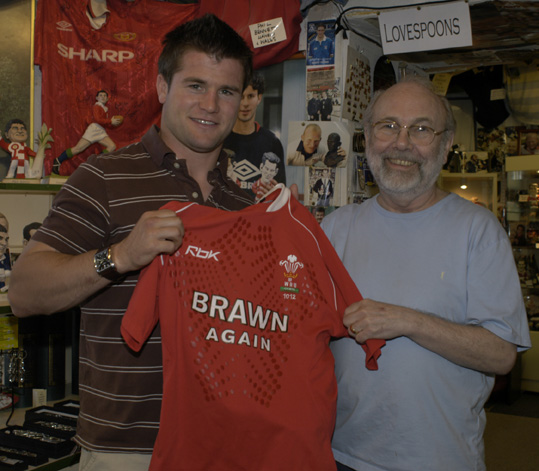 Ceri presents us with his Brawn Again shirt from this years French game, thanks Ceri!
---
Scarlet flyer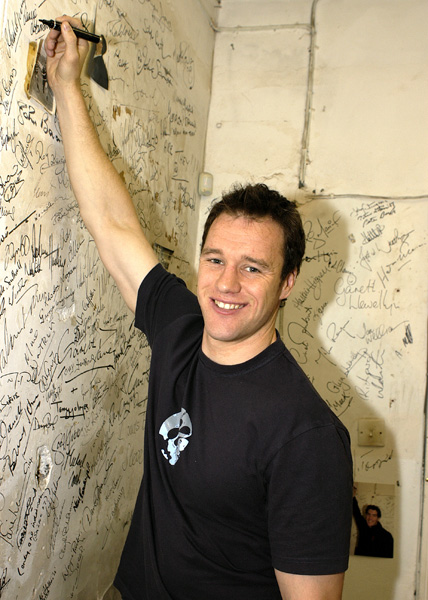 Mark Jones signs in at the Wall Of Fame -11/5/2007
---
Full House Hook
LIMIT REACHED!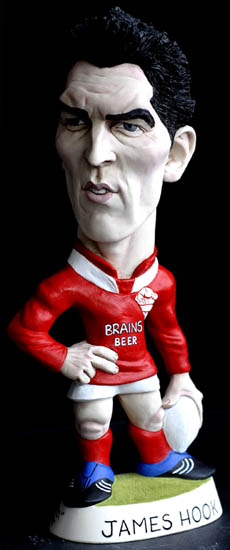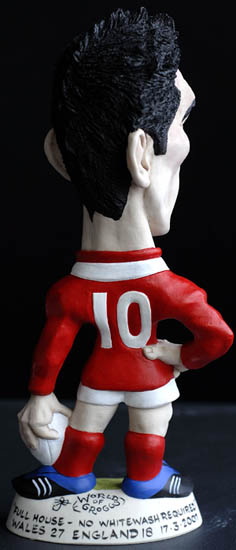 To commemorate Wales' victory over England and James Hooks amazing 'Full House', we have produced a very limited run of 22 (James' points tally) of our Limited Edition James Hook 9" figures. Complete with his additional red collar, Brains logo and distinctive blue boots, the inscription on the back will read 'Full House - no whitewash required' Wales 27 - England 18 17.3.2007. Unfortunately all of the Full House Hook 22 editions have now been sold.
---
Gareth Edwards Bust
Created to commemorate the 60th Birthday of the World's Greatest rugby player, Gareth Edwards CBE, The World Of Groggs is proud to present our special tribute to this sporting legend. As this bust is Limited to only 100 pieces, please let us know ASAP if you are interested in this superbly detailed portrait.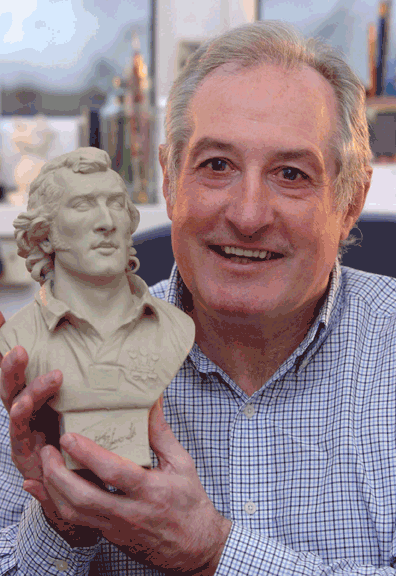 Picture courtesy of Huw Evans Picture Agency
Gareth with the master figure of his new 60th Birthday bust, which he signed on his recent visit to the Grogg Shop to discuss the 9 unique strips.
---
Ryan Giggs
700th Game Special Edition
ALL SOLD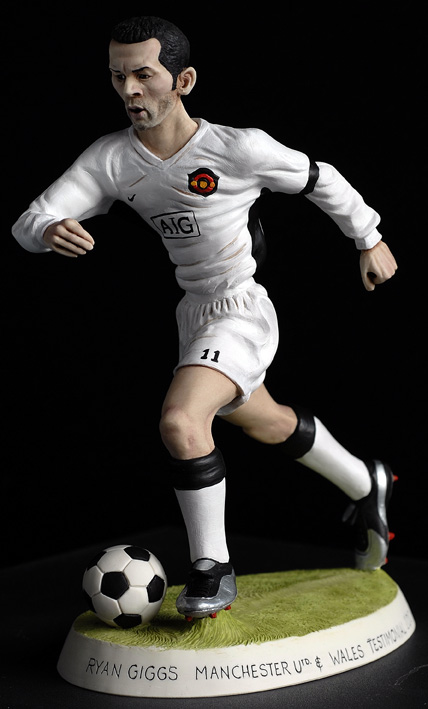 On the 3rd of March 2007 Ryan Giggs passed another major milestone in his Manchester United career. In their 1-0 win over Liverpool at Anfield, he played his 700th game. To celebrate this amazing achievement we will be producing an extremely low run of only 11 pieces of our Action Ryan figure in the white strip he played in that day.
---
Ceri Sweeney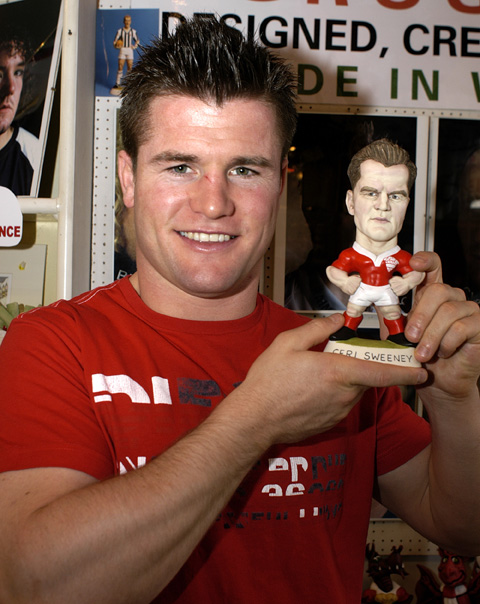 ---
Still the Greatest
16/2/2007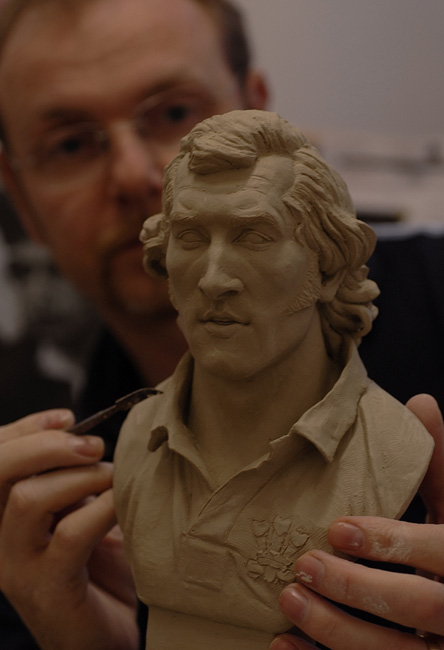 Richard working on the Gareth Edwards bust, being made to celebrate Gareth's 60th Birthday later this year. Only 100 of these pieces will be available to the public, nine unique strips being reserved for Charity auctions, so please let us know as early as possible if you are interested. Although we haven't decided on a price as yet, we are taking small deposits if you are seriously interested. Give us a ring on 01443405001.
"Over the past 30 years I must have made more versions of Gareth than any other player but it's always great to come back to the 'Master'. Gareth was the first recognized Grogg my father made back in the late 1960's, which helped set the Groggs on their way, so it's great to celebrate Gareth's 60th birthday with this very limited piece." – Richard.
---
James Hook
1st Feb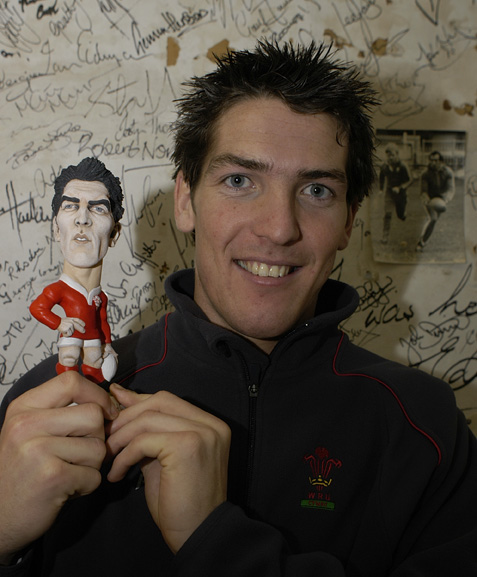 James pops into the shop to pick up his new Limited Edition Grogg!
Good luck to James and all the Welsh team for Sundays game in Cardiff!
---
Jonathan Thomas
25th Jan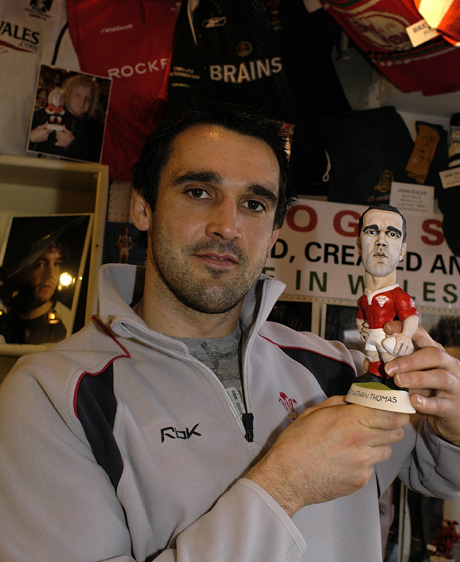 Jonathan stops off at the shop to pick up his new Limited Edition.
---
Alix Popham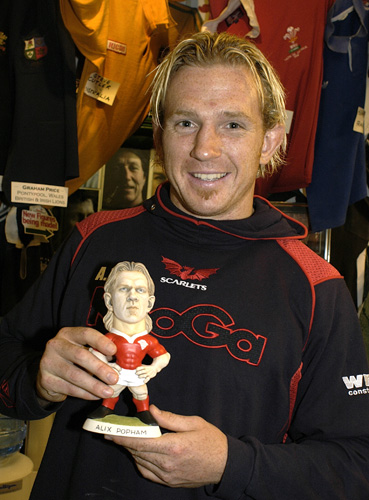 Wales and Scarlets back row star Alix Popham dropped in on his birthday this week to recieve his new Limited Edition Grogg and present us with a very rare shirt, his black Wales V Fiji shirt will have pride of place among our ever growing collection - Thanks again Alix!
---
Bryn Terfel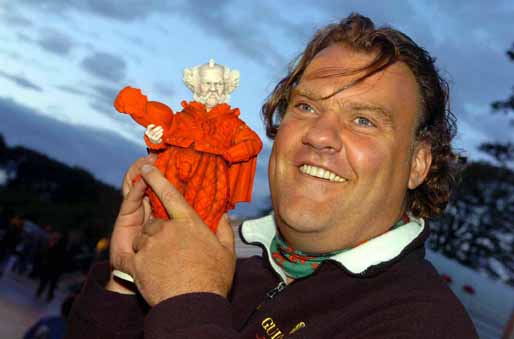 Picture by the Daily Post
Bryn with his Limited Edition Falstaff won by Mrs Heulen Pigott at the Faenol Festival this summer.
---
Created to commemorate the /40th Anniversary of the birth of the World Of Groggs this special figure became the springboard for an amazing WREX dinner on the 3rd of November 2005, when two unique Front Rows were auctioned.
Numbers reached
Robert Sidoli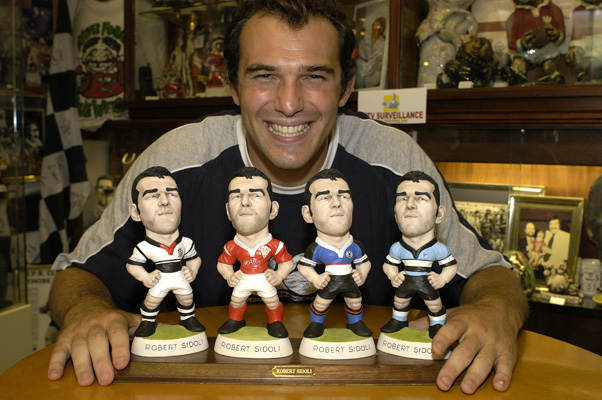 Sid with his rugby career in Groggs!
---
Duncan Jones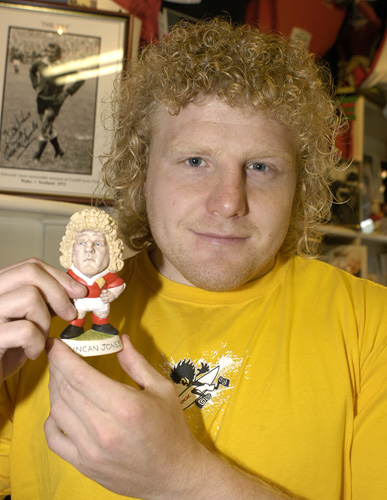 Mini Me! Duncan and his new Mini.
---
Mefin Davies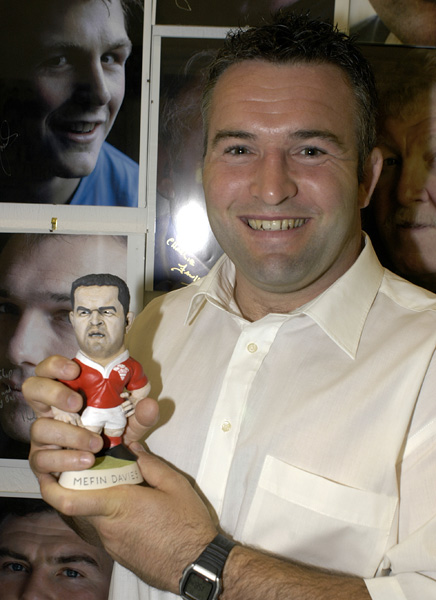 ---
Bryn Terfel as Falstaff.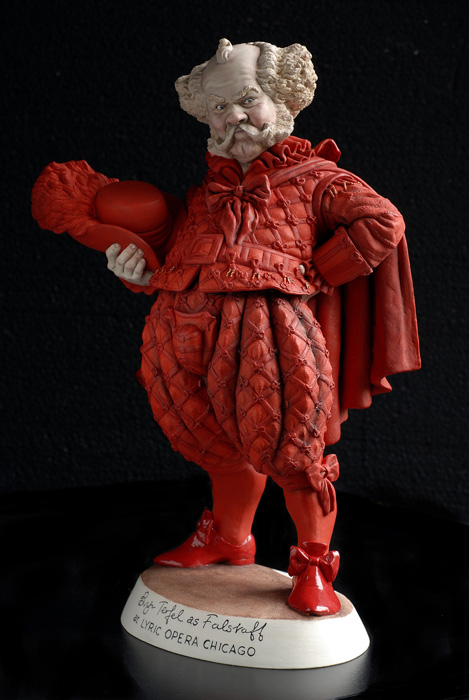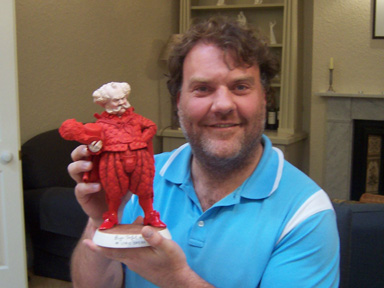 "-Only the best will do!"
---
Alix Popham.
---
Thomas Castaignede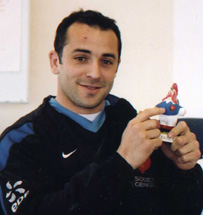 Thomas with his lucky French Mascot, presented to him on the eve of France's Championship victory at the Millennium Stadium.